Shopping Cart
Your Cart is Empty
There was an error with PayPal
Click here to try again
Thank you for your business!
You should be receiving an order confirmation from Paypal shortly.
Exit Shopping Cart
It feels like spring will never get here. I still have out my winter coat and refuse to pack it away. Days like this - cold, windy, and rainy my winter coat feels pretty good! It's another gray day without any sunshine. Our days have been few and far between to see the brightness of the sun. I am looking out the window at my horses standing wet and cold with their butts into the wind. I bet they are thinking Spring will never get here too!!!  But, we must think positive and forge on and I am sure brighter days will come!!
I think Spring is truly upon us! We have had such wonderful mild weather that all I can think about is Spring, Flowers, New Life, Campfires, Camping, Trailriding etc. just think of all the fun just waiting to be had! The other day we had our first "campfire" in the fire pit next to the house. Weston was pumped! He was building the fire tepee with wood and making his own version of fire starter blocks: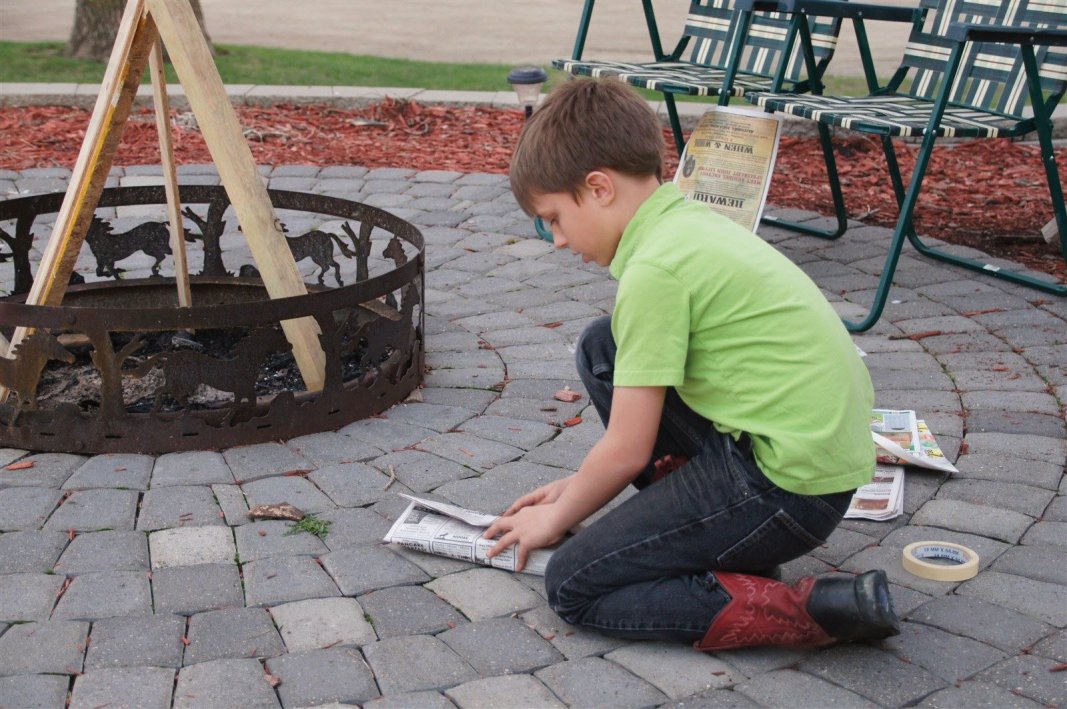 Here is an up close version of the fire blocks: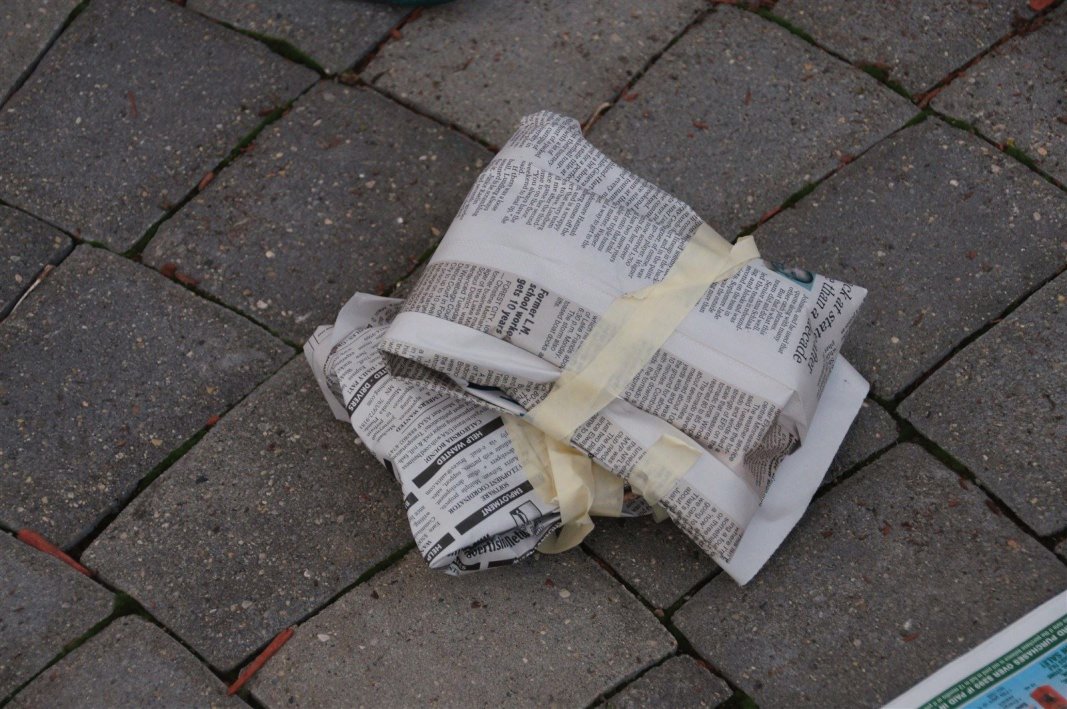 Isn't he the most creative child you have ever seen! I guess I am a little, just a little, biased on that subject! But we did have one of the most wonderful fires I can ever remember having!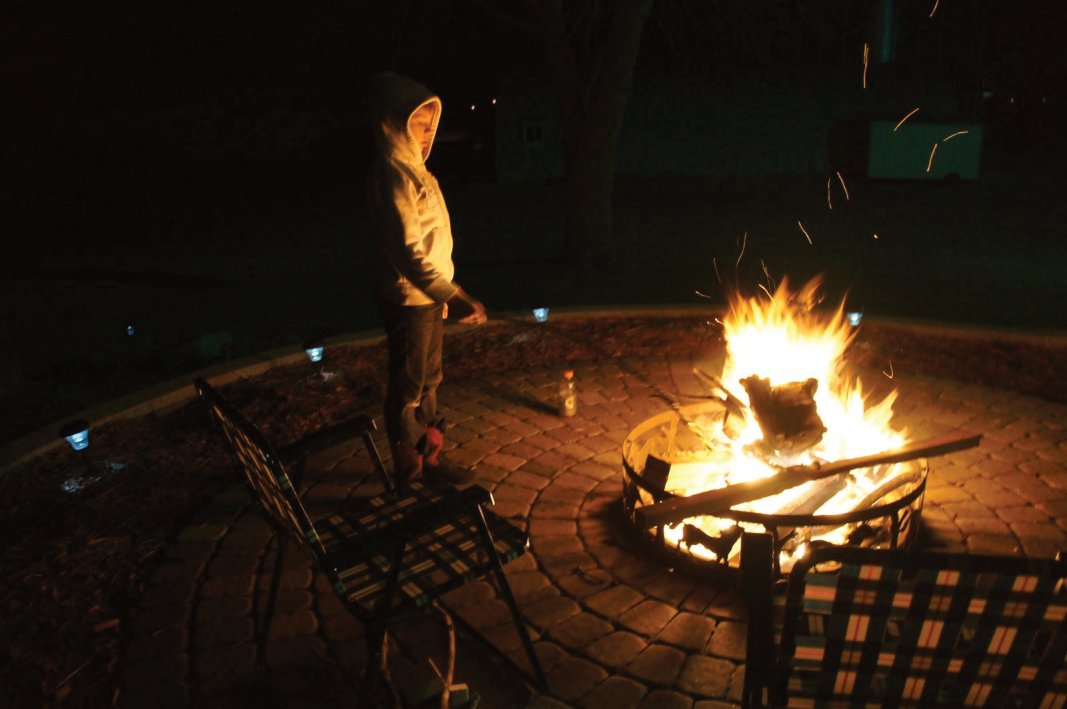 Smores here we come! We did let the fire settle down a little before attempting the Smores or I am afraid they would have been sugar ash!!
Yesterday Chris set out a new round bale of hay for the horses and they hardly lifted their heads to take a breath - look at these silly horses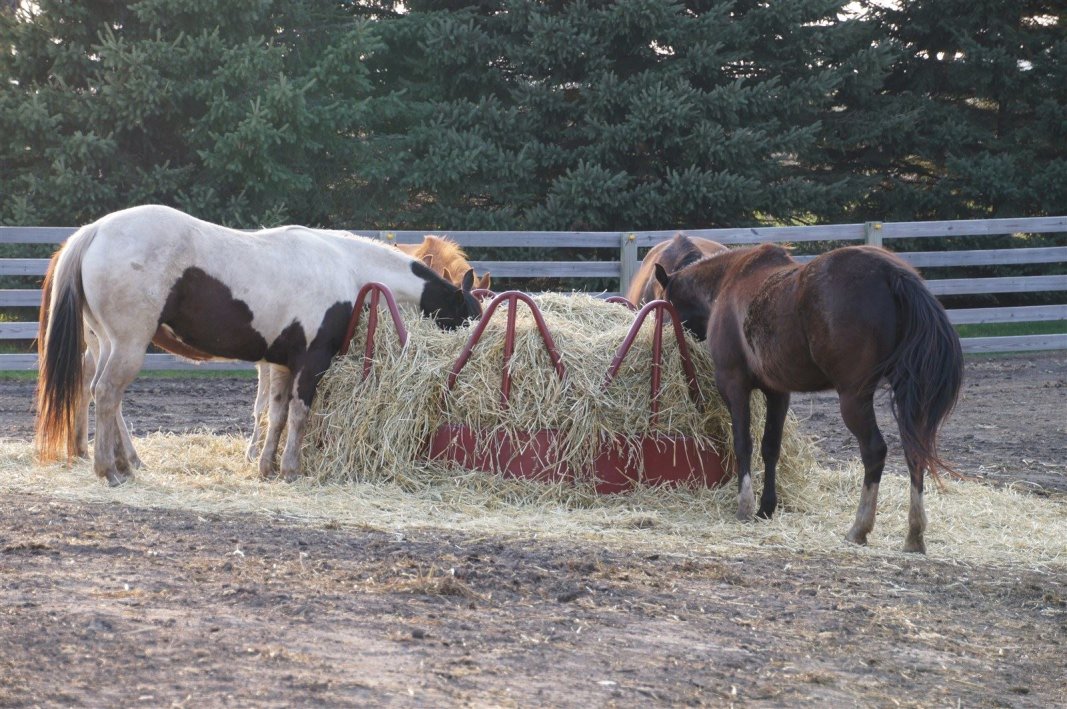 They always think the best is deep in the bottom and they are searching for it! They usually come up with hay hanging in their manes and off their ears. If I can catch that for you someday - I will it is hilarious. But they can be so inquisitive also-after I snapped this picture they finally realized I was there and had to come and say "hi".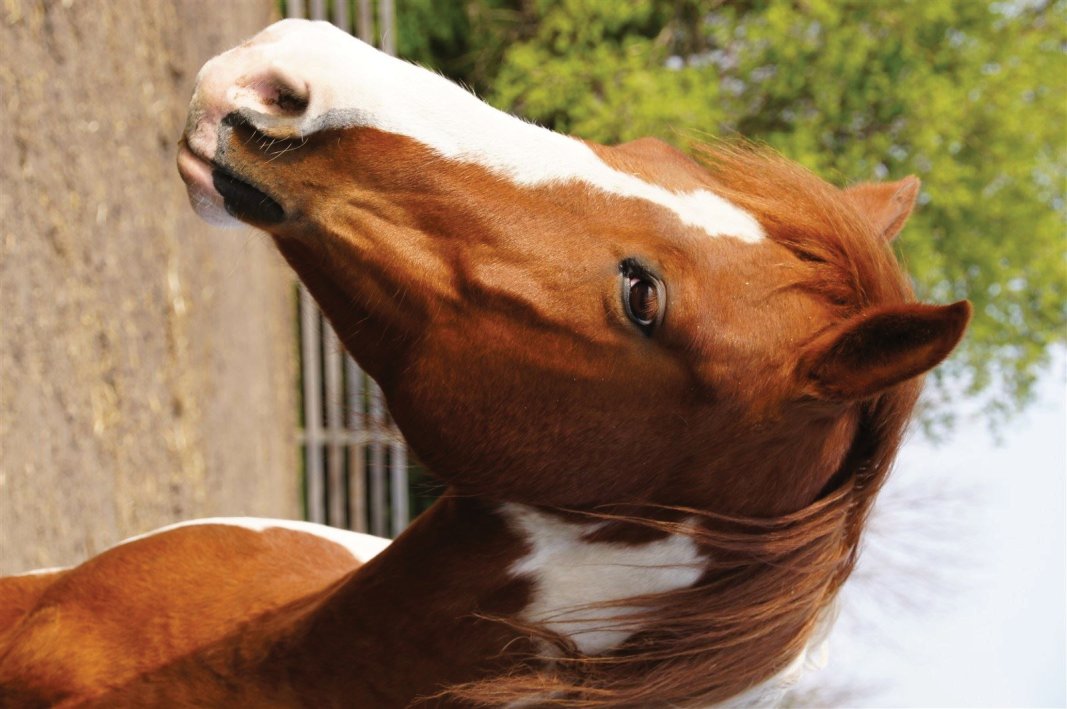 Sorry everyone - I can't seem to get this picture to turn - Oops! But she is beautiful isn't she. This is Cheyenne and she was born on my birthday 8 years ago. We don't ride her to often but Weston refuses to hear of selling her because she is always the first one to the gate to be petted and given attention.
I was walking around the yard picking up the branches that forever seem to be coming down in all this Spring time WIND! The wind turbines by our house should be very happy to have all sorts of fuel and it put a smile on my face to see some of my perennials coming up.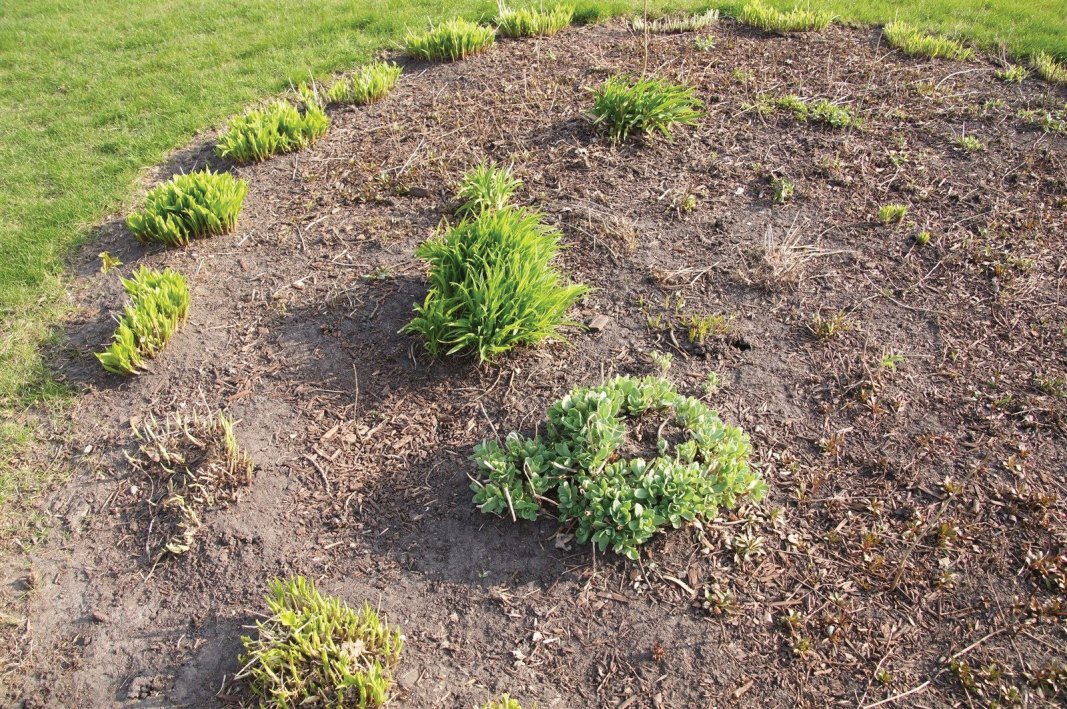 I love to see the new growth coming - new life! When we plant our corn and soybean fields my favorite stage of their growth is when they are just big enough that you can row the field - babies that's what they are and who doesn't love a baby!
I have to show you our Momma cat that was peeking under the fence at me after she had just gotten a drink from the horse's water tank. I think she thought she was being sneaky but I caught her.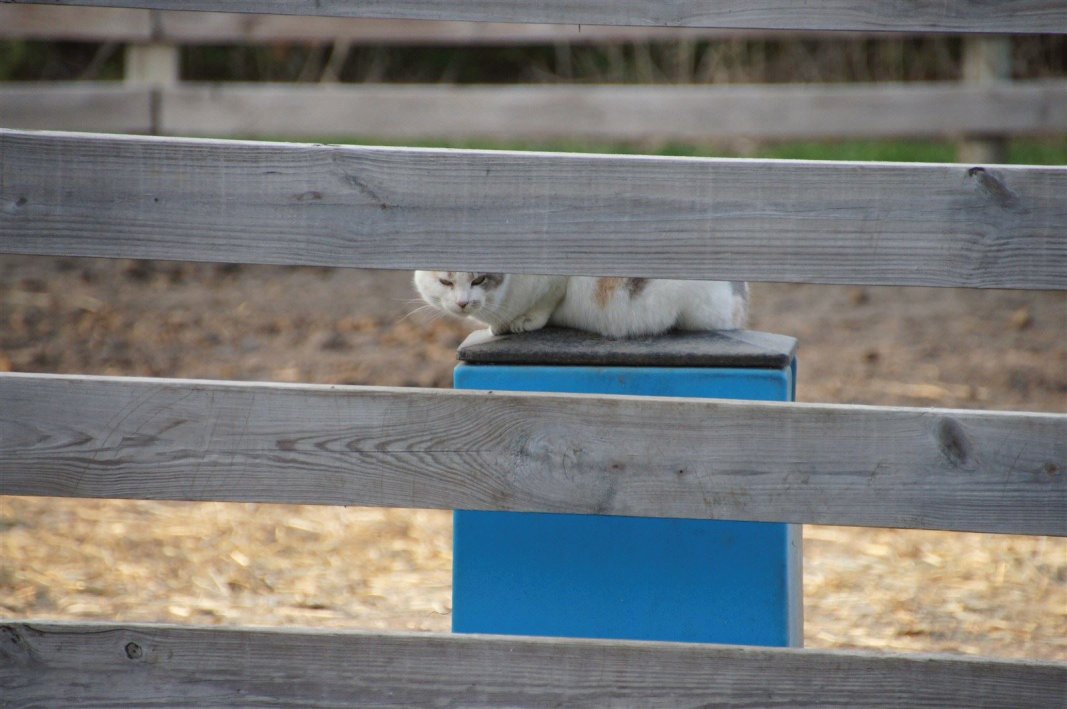 Weston is alway excited to see her because she does a lot of roaming this time of year and isn't always around. She does provide us with many litters of kittens through the year. In fact, she is due again very soon maybe you can see her round tummy. Anyway when the blessed event happens I will be sure to post some pictures.
Remember:
Everyday is a Blessing!
Quilting, Quilting, and then some more Quilting! That is what I did on Saturday. I invited my quilting group that is named the "Border Babes" out to our place on Saturday which of course was St. Patrick's Day. We had a wonderful time catching up on each other's lives and quilting projects. It is always fun to see what creative and exciting project each of them are doing. We decided that a St. Patty's day theme to the food was in order. So I volunteered to make the Corned Beef Brisket and the rye bread, sauerkraut, Thousand Island dressing, swiss cheese were all donated to the Reuben Sandwich cause. We also had a wonderful, lowfat coleslaw to get a little more cabbage into our diet and special K bars, a green frosted angel food cake, and a mint cheesecake to top off an awesome meal. Next time I will remember to take a picture of the wonderful spread. I will share my beef brisket recipe with you though as I have had excellent luck making this every time I have tried it.
4 to 5 lb Beef Brisket                                 1 tsp Onion Powder
1 tsp      Salt                                             1 tsp Pepper
1 tsp      Celery Seed or Salt                       2 T Garlic Powder
2 T         Worcestershire Sauce
Mix and rub into the meat on all sides. Bake at 250 degrees overnight in the oven. Pour off juice in the morning and refrigerate until cold. Slice thin; put some water in the bottom of a pan and bake it for 1 hour at 250 degrees to reheat. Put mixture on buns or make into Reuben sandwiches. (Absolutely Yummy!)
Friday Chris and I staged seed all day getting ready to pull and wrap customer's orders to be delivered or picked up. What an unusual year! Normally I have my big winter boots, Carhart jacket, ear muffs, and gloves on when we do this task but this year I was in short sleeves, no coat, tennis shoes and I was extremely comfortable! It is almost a little scary to have the weather so so nice. I just hope it doesn't make for a wild weather pattern and we get awful storms this spring and summer. After a couple years ago we are all a little nervous about such things.
Sunday we received a load of chemical so Chris and I inventoried everything and found a home for it. It is exciting to be getting all the product back into the warehouse. I really enjoy the customers when they come so I can catch up with them about what is going on in their lives. We really have some wonderful people that we work with! Sunday was also our Chili/Soup supper at Church. We had such a great time visiting with all the people as they came through the line and we served them either Chicken Noodle soup, Chili, or a White Chili (that my Dad made and it is absolutely WONDERFUL!) Maybe he will give up his recipe to me some time and I can share it with all of you.
Everyday's a Blessing!
Sorry for the delay in posting but I went on a couple day vacation. Chris went out to Apache Junction, AZ to ride horse with two friends of ours and I flew out to see him for a couple days. It was absolutely beautiful and I got in on some wonderful weather! It was the Sun Therapy that I needed. Here is the view from the spot where Chris parked his trailer looking at the hills. He stays with a friend of his who owns this place and has room for 4 trailers and about 6 horses.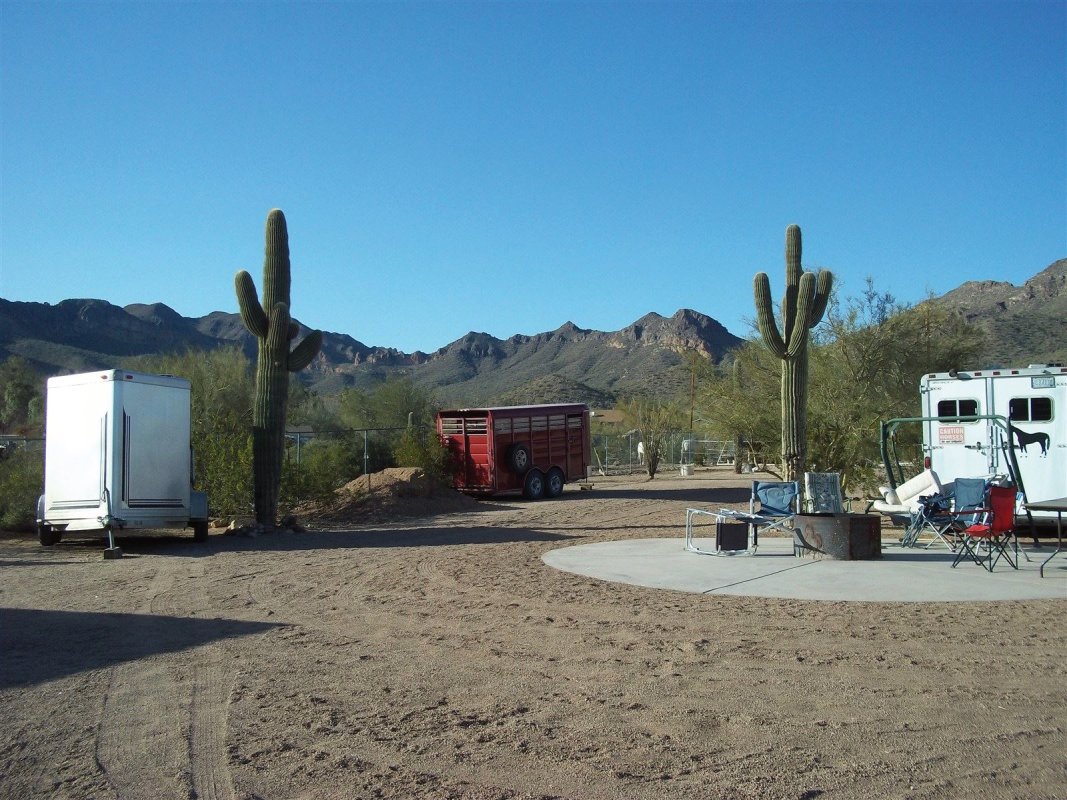 Just look at that clear blue sky - Heaven!!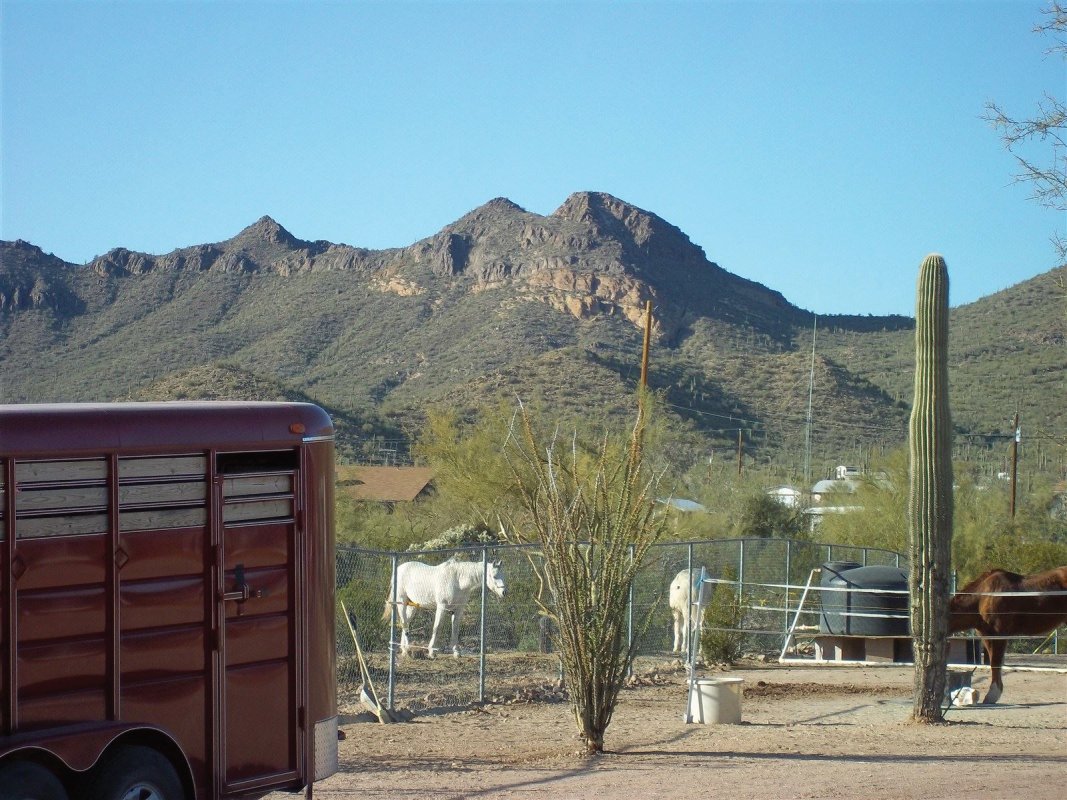 I did go riding with Chris as it was important to him to have me see the countryside from the saddle. We did ride part way up that hill and around the bottom. Chris and his cowboy friends rode through the saddle part of this hill breaking their own trail but not this cowgirl - I like a trail to follow "Thank You"!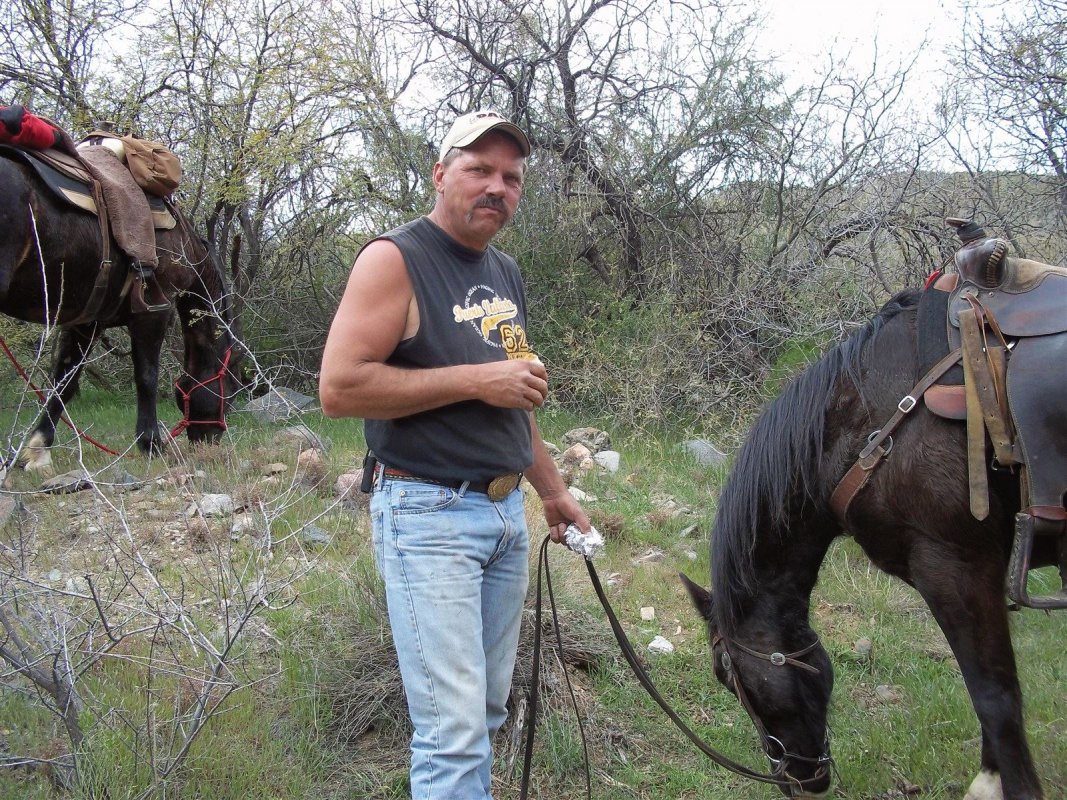 Chris is having his lunch (peanut butter sandwich and a granola bar). This is the day we rode for 5 hours up in the hills. I have to tell you the trails around here are like freeways compared to the trails out there. They are narrow, rocky and lots of hairpin turns (usually on the side of a hill where it is impossible to meet anyone cause there is no room to pass each other). I would have liked to take a picture of these trails but I was holding on for dear life so that I did not fall off my stead!!! A broken leg would have made it a little difficult to drag my baggage through the airport to get home and I had a little man to get back to.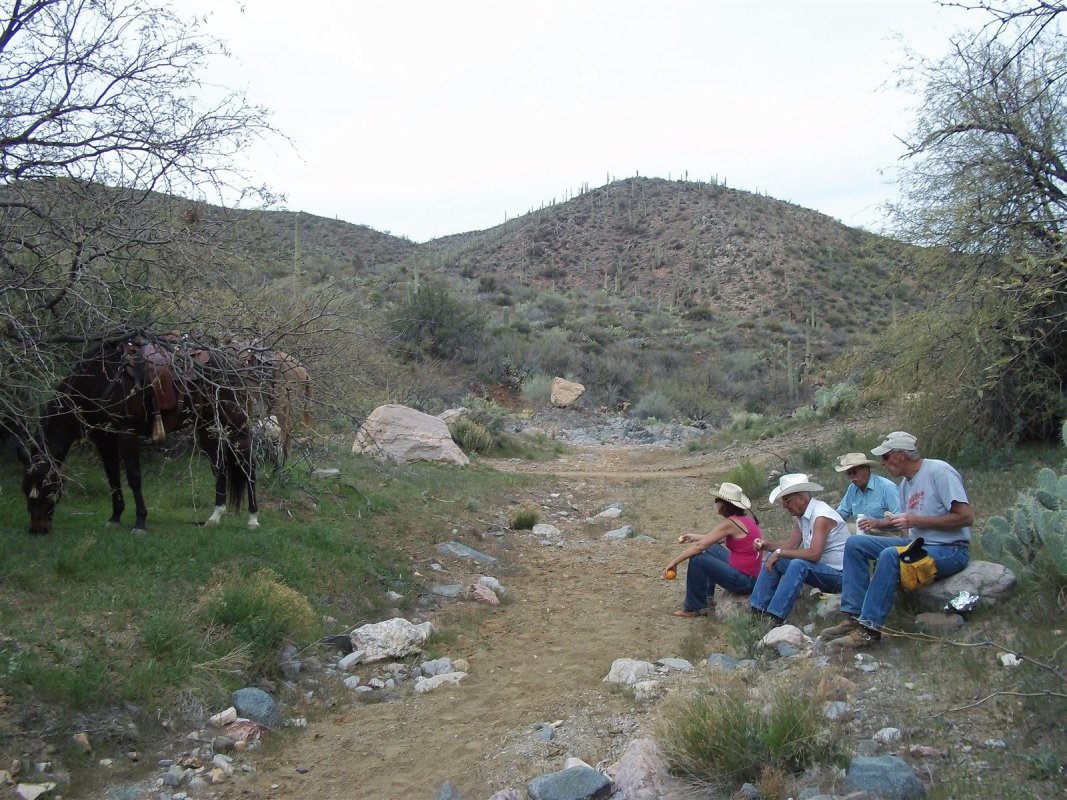 Another picture of the hills we rode. Luckily it was a little overcast this day or we would have cooked. The temperature was about 84 degrees. It felt very nice to my Minnesota skin!
The first day I was there Chris took me to a place called Tortilla Flats. It was a cute little stop in the road with about 3 buildings. It had a very interesting restaurant that we had lunch at. The whole inside of the restaurant was covered in dollar bills and I mean completely covered!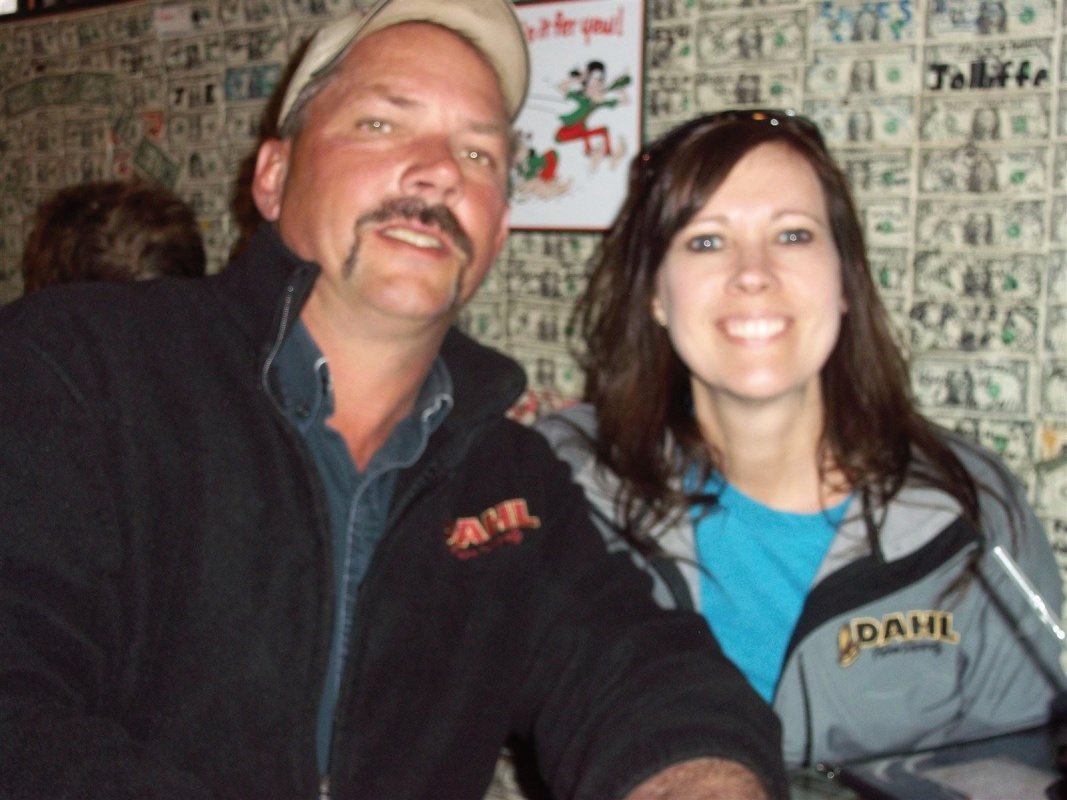 What fun bar stools!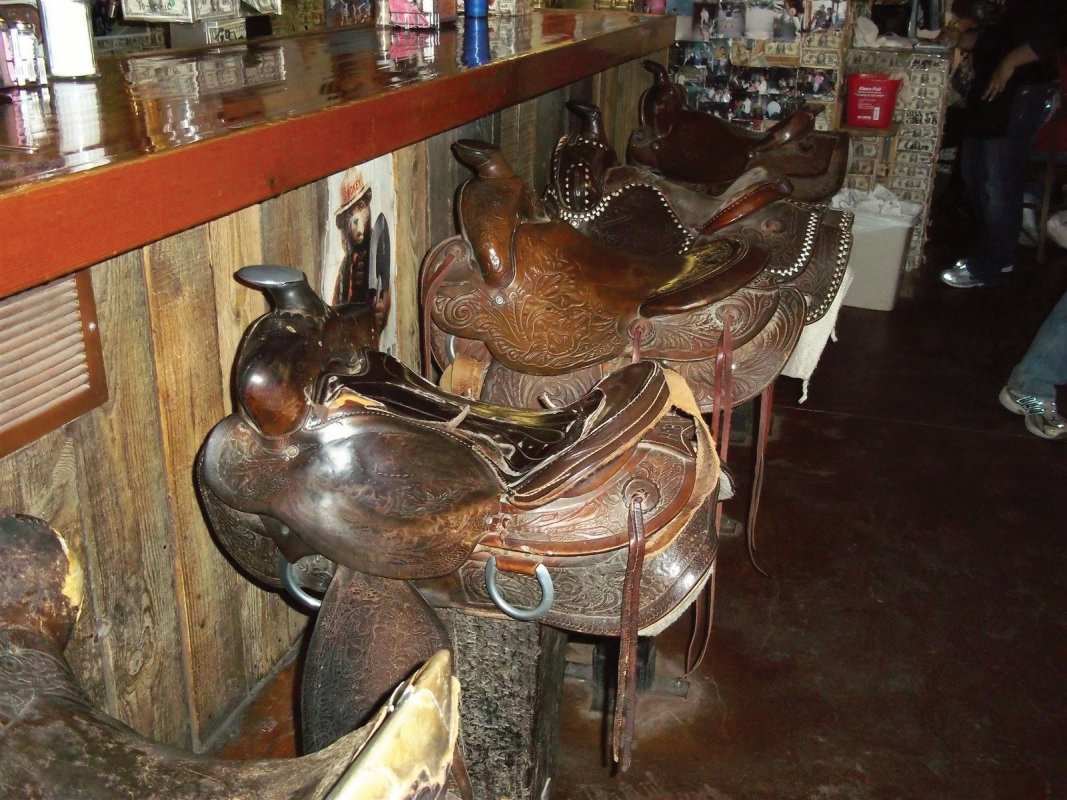 On the way to Tortilla Flats we stopped at an overlook - this is Canyon Lake. Aahhh so beautiful.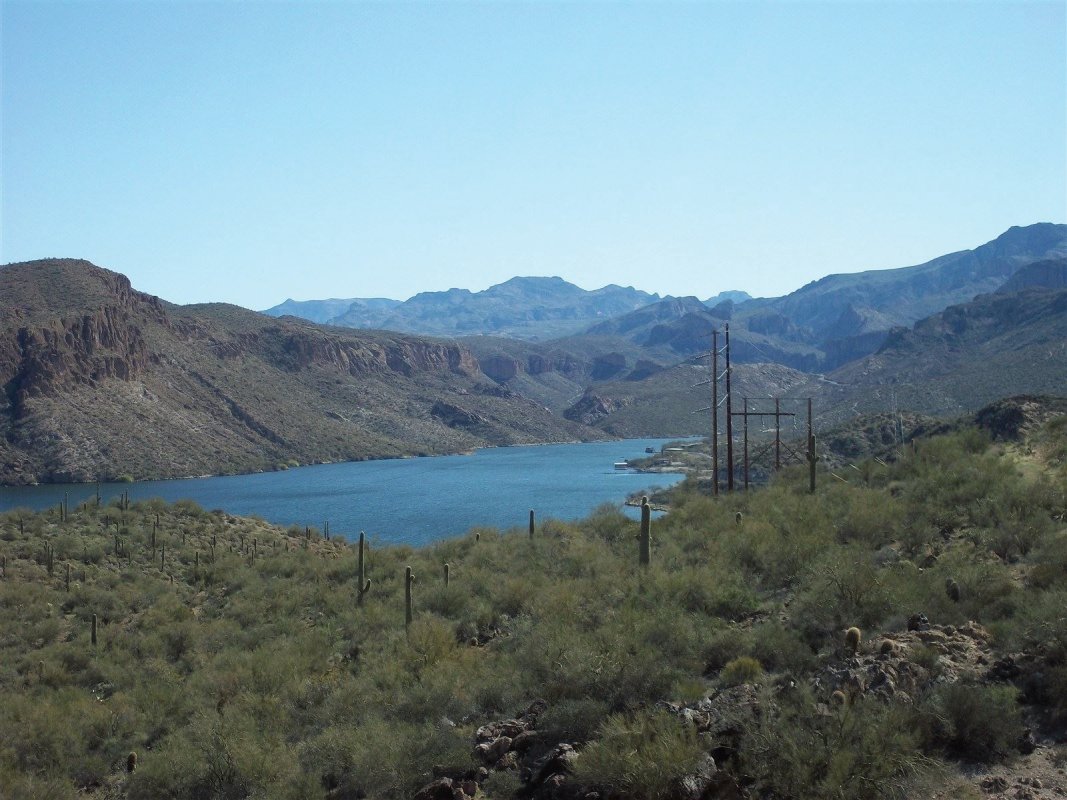 I hope you enjoyed the short tour of my vacation. Chris will be home tomorrow - we will have to see if he has any additional pictures from his time there. My bet is he did not take a one!!

 

Everyday is a Blessing!

 

Gloomy Day! It has been such a gray gray day today. But it really didn't bother me. I have been so busy in my office sitting at my desk just plowing through the paperwork making tons of head way. Even if it is an overcast and sad day I am elated with the progress that I have had. There have been a couple projects that have been calling to me for weeks for their attention and because of one interuption or another I had not gotten to them. But - today I did and it feels absolutely wonderful!! Chris was gone all morning and that gave me a chance to concentrate on those projects as they needed my full attention. Sigh! You know how that feels when something that has been on your mind and nagging at you is suddenly gone. I still have a pile of work to be contended with but the couple things that I was liking the least are now finished.  Ok - I know enough of that you get the drift right?!? 

 

Tonight is Weston's winter program at school. I am so excited because I am going to try out my new camera that I bought up at the National Camera Exchange store in Burnsville. I did have a chance to play with it a little at my two niece's school programs. It is so much fun to get really good pictures. I can't wait to have a friend of mine, Marcie who used to take professional pictures, take a look at the camera and give me some tips and pointers! I will try my hand at uploading some pictures to this blog tomorrow so that you can see just how handsome a lad he is. I took him to my oldest daughter's hair salon yesterday to have him trimmed up and looking good. And I have to admit I can't wait to see him in his new clothes. He looks so much like his Dad and when he is in a button shirt and tie he is really looking good. He loves to wear a tie. One time he went with Chris to a Ranch Rodeo ahead of me and when I went up to join them I caught a glimpse of my son off playing with the other kids and he was wearing one of his good ties clipped to his t-shirt. I could hardly believe his father let him do that. When I asked why he was wearing that tie he just replied that he liked it and wanted to look good that day. Well look good he did and he also got a ton of attention!!! 

 

Wes will be home in a couple minutes and then a whole new set of things will need to be done so its good bye for now.

 

Everyday is a Blessing!

 

December has arrived! Wow where has this year gone? It hardly seemed like we had any summer with all the rain that we had this spring.It took that much longer to put the crop in this year and so therefore it shortened up summer! But, I have to admit this year's fall harvest went the best of any that I can remember in our 16 years of married bliss. I think we pretty much had everything out of the field in 3 weeks. That is incredible! And now we are looking the end of the year in the face. I went yesterday to Mankato and did some Christmas shopping with my Mom and two daughters Jade and Jessa. What a wonderful day. We shopped, had lunch, and enjoyed each others company. It is not very often that we can get all us ladies together at one time and especially for a whole day of shopping. I love those ladies so much I can hardly believe that I am lucky enough to have them all in my life. All of us are at different stages of our lives but can totally appreciate each other and give the support needed.

 

Last weekend Chris, Weston and I went to the cities to buy a different pickup for the farm. One that has a flatbed on it with boxes for tools. Everything he wanted except that it was a 2 wheel drive pickup instead of 4. Well we got 10 minutes from the place that we where going (which we had called the night before and made the arrangements to come up and see it telling him when we would be there) and he called to tell us that he had just sold the vehicle to another person. Can you believe that? We were on time as to when we told him we would be there and he didn't wait for us. If someone else was coming to see the truck he should have told us so the night before when we called him and set up the arrangement. Disappointing! Sometime you wonder how people think. So we got back on the freeway and headed back south. I wanted to check out the National Camera Exchange store that is located just south of the Burnsville Mall. I came out smelling like a rose in this deal though cause I purchased a new wonderful Sony Alpha camera. I am so excited to learn more about this camera and what it can do. I will start posting some pictures to the site so you can see how I am doing. Wish me Luck!!

 

Everyday is a Gift!

 

 

 

 

Welcome to my new blog. I am so excited to have a blog-I can hardly stand it. I hope to let everyone know more about our business and give you all a chance to get to know Chris and I better personally. We started DFS about the time that our son, Weston, was born. He will be 8 years old this coming January - where does the time go. A baby one minute thinking he will never get out of diapers and the next in 2nd grade. We also have two older daughters - Jade 22 years old and Jessa 19 (almost 20, birthday in January also!). So we have issues from one end to the other with children-ones wanting to get on their own and wishing they didn't need us to another who just wants our attention and to be heard. It is all great fun!!

 

Chris and I have 6 horses and Chris especially throughly enjoys them. He does the Ranch Rodeo thing while I enjoy the more laid back trail riding. We try and do as much trail riding and camping in the summer as possible. I think Chris would like to retire in a horse trailer where we could pull it all over and visit many exciting places. It might be all right for awhile but I like home too and besides I can't be away from my little people for to long!

 

I want to invite everyone to our Seed Day that we are having on November 21, 2011 at our office/farm. The office and our farm are one in the same. It works out wonderfully especially in seed and chemical season as we are here for all hours of the day and night for pickup of product. Many of our customers find that very appealing as you never know when you need just a little more chemical to finish that last field or 5 more bags of seed that you thought you had figured correctly but came up short. We totally understand!!! lol.

 

Weston will be home from school shortly so I will say good-by for now but will be back very soon.

 

Everyday is a Gift!!

 

 

 

 

0

/