Shopping Cart
Your Cart is Empty
There was an error with PayPal
Click here to try again
Thank you for your business!
You should be receiving an order confirmation from Paypal shortly.
Exit Shopping Cart
Hello everyone!! I am so excited to be back. Things have been a little crazy around here for the past 5 years since we opened a boot and western store in our town of Albert Lea. I truly didn't know some days if I was coming or going but we made the decision to close the store the middle of December 2017 and so now I can spend more time here with all of you!! I am very happy and excited about this and having more time to spend with my family and build relationships again with my friends. I hope they have not given up on me!!
Winter here has been very cold with minimal snow. My son has not been very impressed with the amount of snow as he waits all year to finally be able to ride his snowmobile and enjoy the winter! Hopefully more will still come and we will get the chance to ride again around our area. We were able to fit in about 3 days of riding and then it warmed up a little and it melted off the fields and was dangerously low in the ditches so we put the sleds back on the trailer and are waiting for the next chance!
I got a granddaughter since the last time that I talked to all of you. Her name is Ava and she was born in July of last year. Blessings truly do come in small packages!! Being a grandma is the best most rewarding thing in the world. I absolutely am taking advantage of having more time so that I can be with her!
Everyday is a Gift!!
The weather today is perfect for Halloween!! It is dreary, misty, and spooky!!  Not the best day for corn picking but for spookiness it is right on point. I will be going to my son's classroom today to help with his Halloween party. They will play games, do crafts, and of course have a little snack! He is going to be a Minnesota Vikings football player. I will post pictures of him after today so you can all see how football tough he looked. (I don't want to say "cute" because he would not like that - but I think he is cute!)  Then this evening we will go to our store "Country Soule" and hand out candy to the kids which will be trick or treating around to all the merchants. It will be our first time for that and he is excited to hand out candy because living in the country you never really get any trick or treaters! Hope everyone has a safe and fun Halloween! Try to pace yourself on eating all that candy - no sugar highs!!
Sorry I have been away for so long but I have to let you all know that we are starting another new adventure in our lives. We are going to open a Boot and Western store in Albert Lea at the Northbridge Mall. We are so excited to bring boots and western wear to town. There will be things for the whole family! Boots, Apparel, Tack, Accessories, and some Home Decor. I have been meeting with different company Reps and getting merchandise ordered and we have already received some boots, belts, shirts, jeans and jewlery! How exciting is that!?! I really hope everyone will stop in and see all the great things that we have to offer. Even if you are not a "cowboy or cowgirl" there will be boots and apparel that I know you will like. Starting out is hard cause I am not sure what everyone would like to see in their boot and western store. I want it to be the people's store - one that they can go into and find what they were looking for. So, if anyone has ideas for what they like just drop me a note on the blog or email me at
[email protected]
and let me know. I will try and keep you informed on how our progress is going. We just got into our store this week and started hanging the slat wall that we need to hang shirts from. I will take some pics tonight and post later for you all to see. As we paint and install flooring I will try and post pictures so that you can see the transformation right along with us!
Everyday's a Blessing!!
I'm Back! It is so good to be back blogging. I will do my best to keep up with it. What prompted this restart was I decided to change internet providers to hopefully gain some speed to my surfing. So in doing I needed to create a new email address and decided owning my own domain was a better choice so that it would alway follow me. So for anyone wanting to email me personally or for Dahl Farm Supply here is my new address
[email protected]
it is certainly a process to get everyone informed. I went about creating about 5 different emails sending out to different groups of family and friends to inform them and the emails did not seem to be sending! So I talked to the people that came and installed my new internet service and he said that some companies will limit the number of emails that you can send in a day or in the first 24 hours. Well that was the case! They will only let you send 25 emails in the first 24 hours and then you can send 500. So all of my emails are sitting in my outbox waiting to go out and I need to try and remember to hit the send button every so often to see if they will go. Ugh one more thing to remember. It has been over the 24 hours from the inception of the new email domain but so far no luck! I will keep trying - if you need me all email will come in but they just won't go out. It's good to be back!
This last weekend was a "Wedding Weekend". My cousin Dennis's son Cody got married this weekend in Cushing, MN. Which is about a 4 hour drive north of here. So both my daughters and their boyfriends and my brother's daughter Abby piled into my Buick Enclave and headed "North". We had a really good, no problem, drive - thank goodness. My Dad, Mom,and Grandma Helen also went and so we followed them. It is always nice to travel in packs so if there is a problem there is someone to fall back on for help! I do have Triple A but I think Dad is always better!! The wedding was beautiful and it looked to us like everything went pretty much like clock work. The only small qlitch was that it rained while we were in the church and it got extremely cold outside. The reception was held just down the road at the Campfire Bay Resort. They had set up a big white tent with beautifully set tables and decorations.There was a table filled with gorgeous cupcakes - chocolate and carrot cake. Yum!!! After supper we went back to the motel and piled on more clothes so we could enjoy the dance and the rest of the evening. I have to share a picture of me and my girls first though: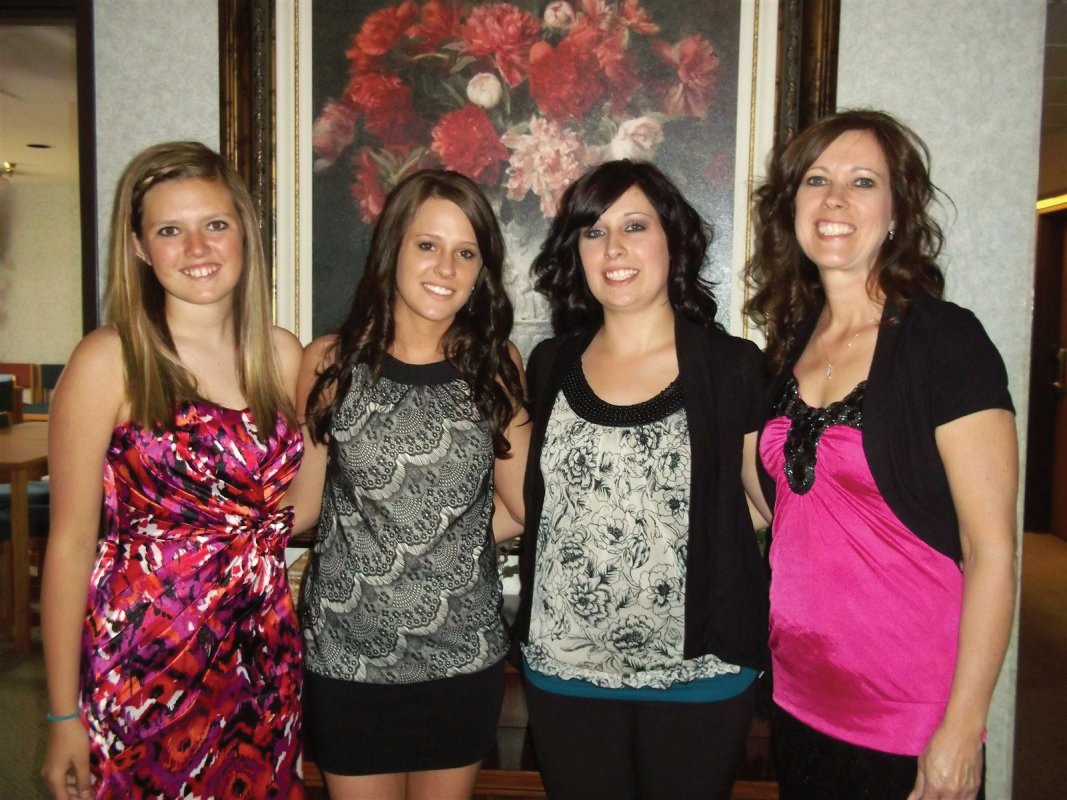 Oh aren't my girls beautiful!!! The middle two are my daughters and the one on the left is my niece.
Here are some pictures I snapped at the dance: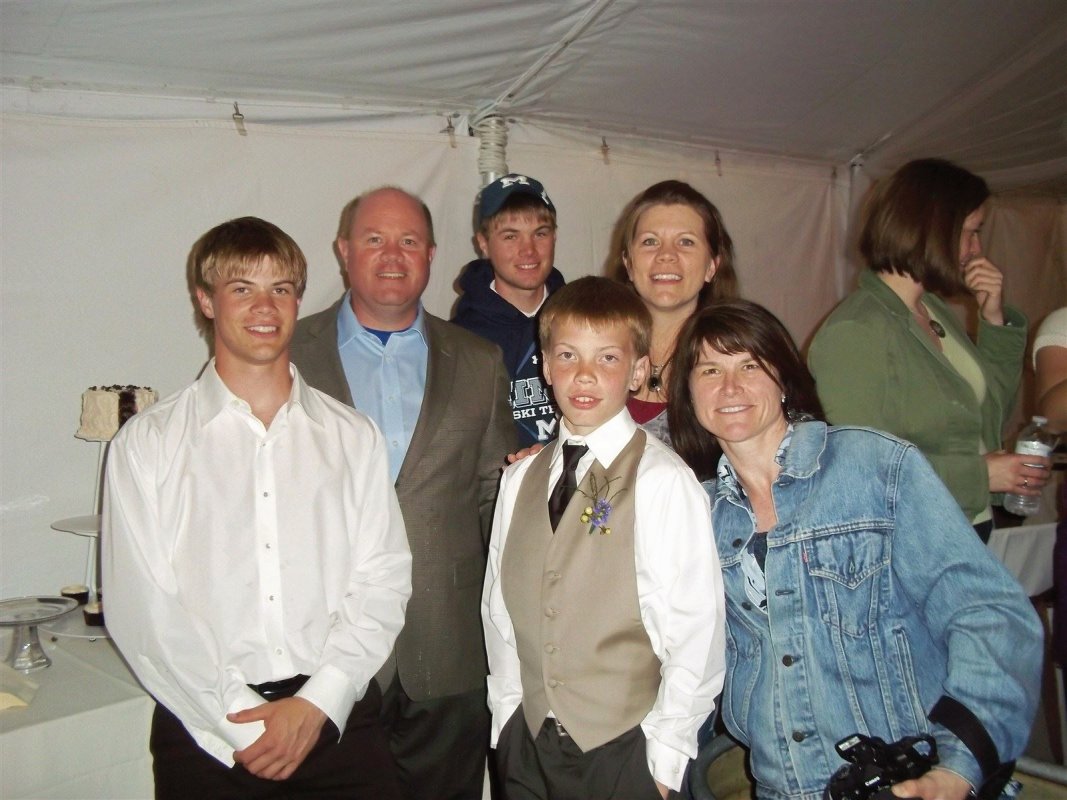 This a pic of my cousins and their children (at least some of them).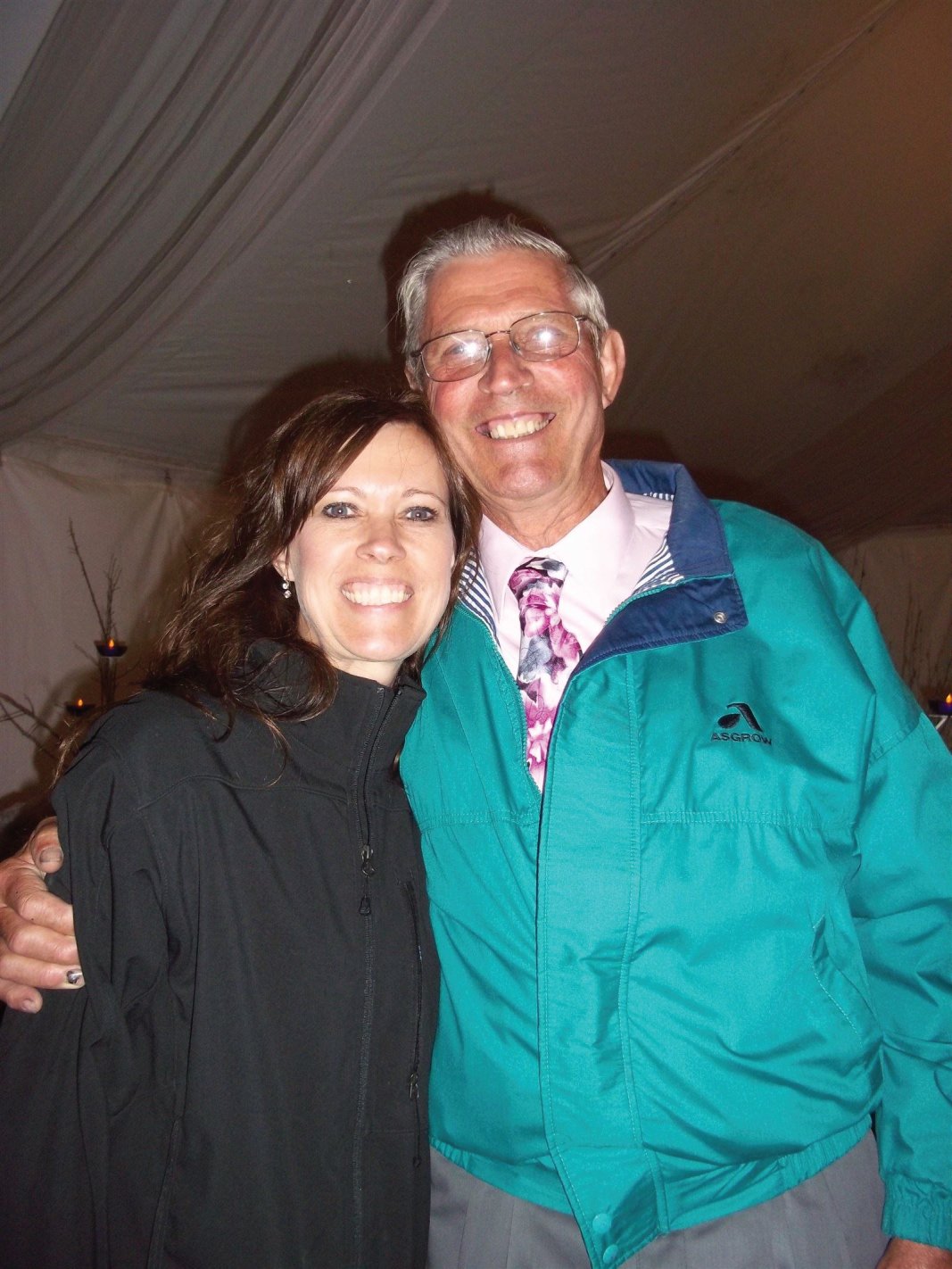 Me and my Dad - Everyone has always said we look alike. I think so to! Love that Man!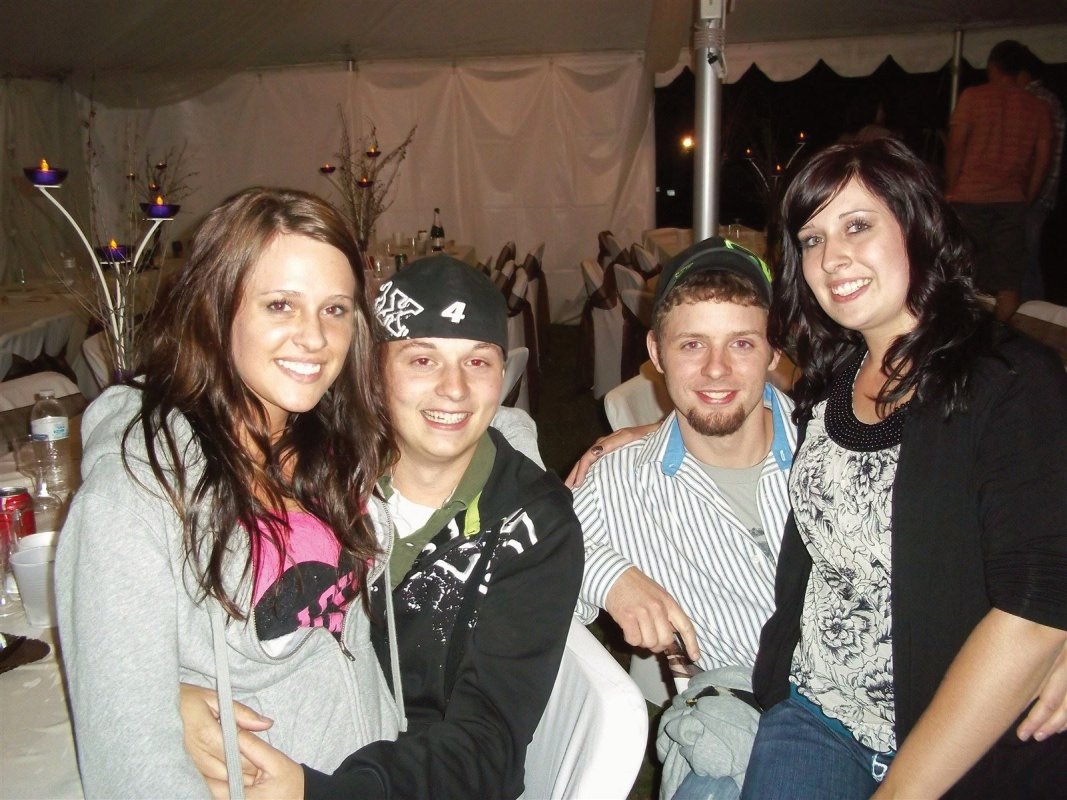 My girlies and their boys - nice looking couples! They must have had fun they are all smiling!!
So that was my weekend - I do apologize though I did not get you a picture of the beautiful wedded couple. What was I thinking? Who knows and I didn't get a picture of the cupcake table. I really need to get better at this. I will I promise!!
Hope everyone has a great Memorial Weekend this weekend. I am not sure what is in store for us but I will blog it next week.
Everyday is a Gift!
Happy Mother's Day to every Mom out there! Isn't it nice to have a day that you can be reflected on and feel especially loved. I spent the day with my children and throughly enjoyed it. We went to my Mom and Dad's and grilled hamburgers. My daughters chipped in on the meal bringing potato salad and taco chips and salsa. Mom also made scrumptious deviled eggs and for desert - Banana Cream pie (my Grandma Helen's recipe) Yummy!! It was a very nice leisurely day - I didn't have to do a thing! That doesn't happen very often so I was loving it! I really wanted to get a nice picture of my children and me on this special day - following is how it turned out!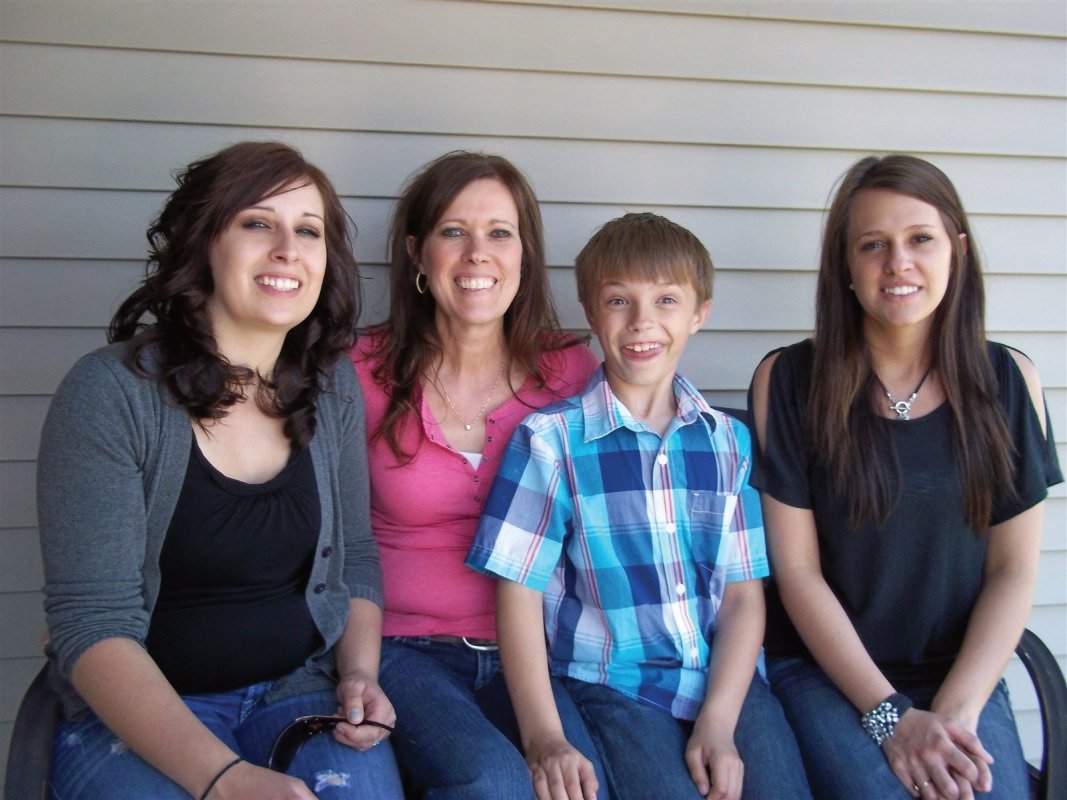 Seriously Weston?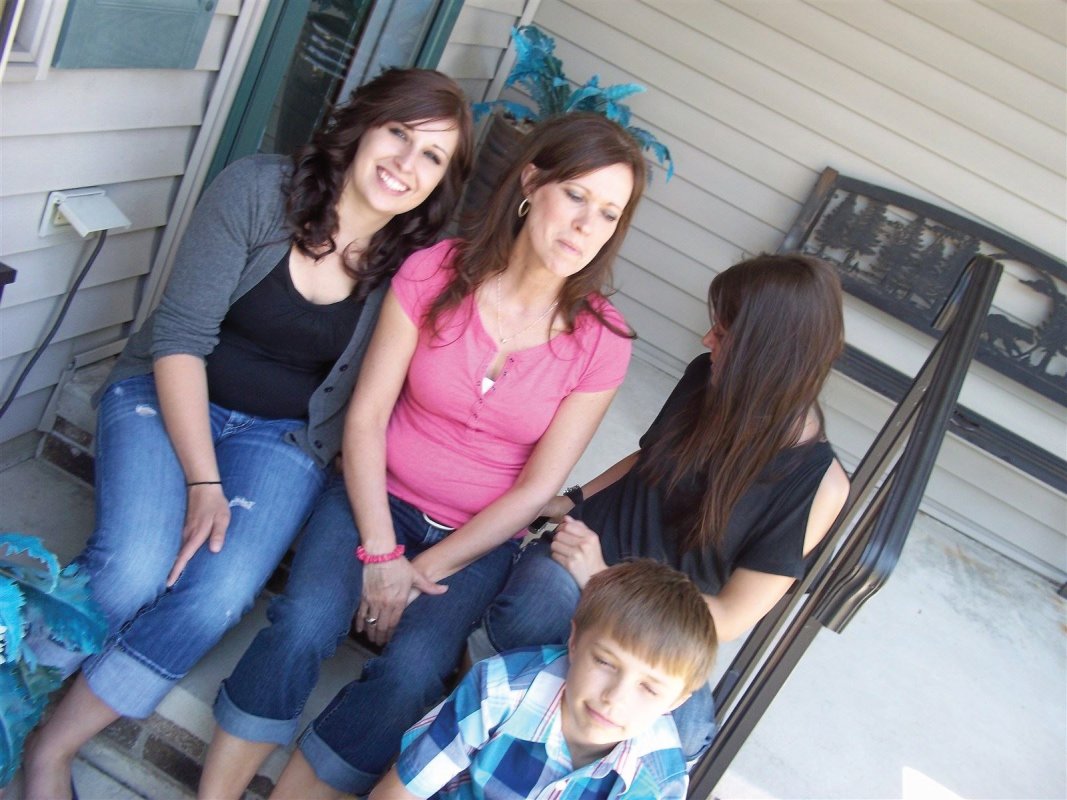 Oops - Lost Jessa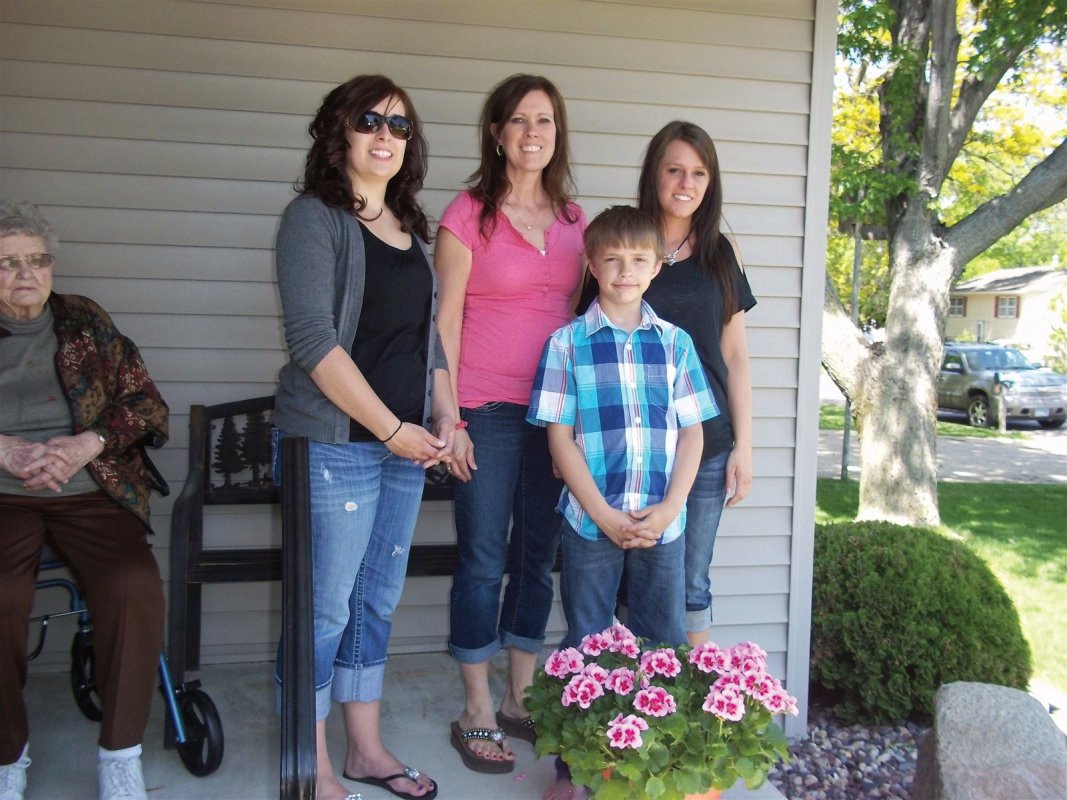 Jade - lose the shades!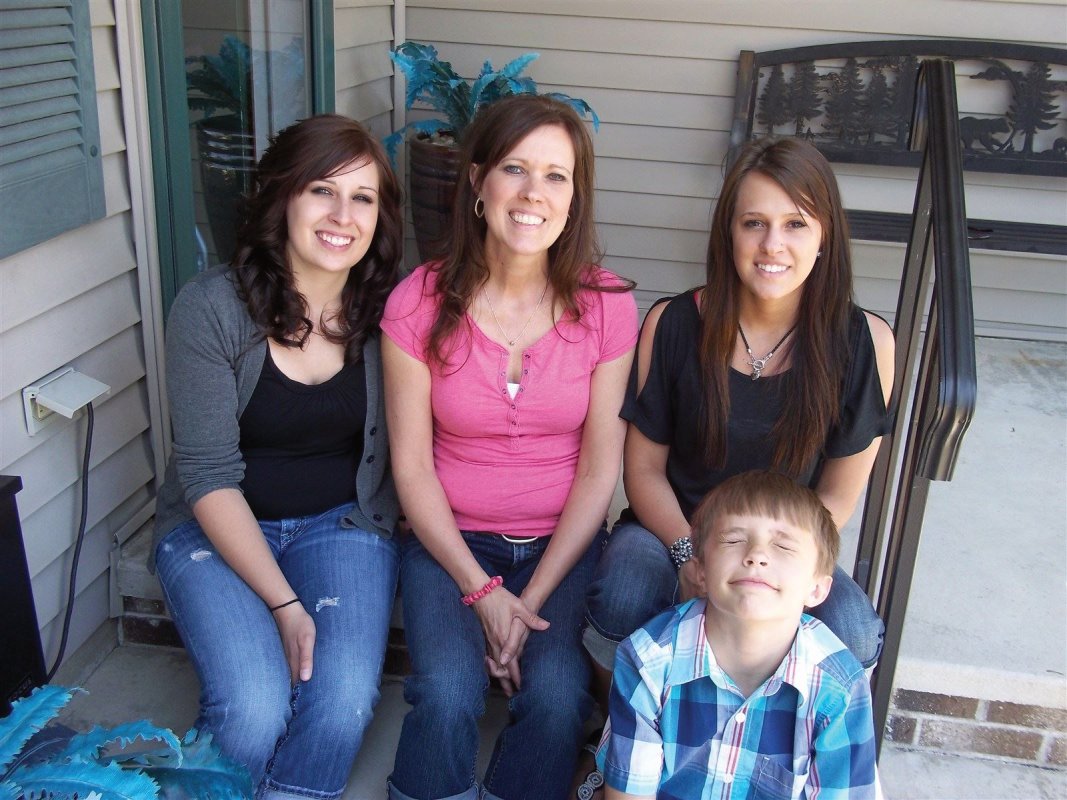 Grandpa is about ready to give up! He said - do you know how hard it is to get 4 people to all look and smile at the same time? (LOL - Sorry Grandpa)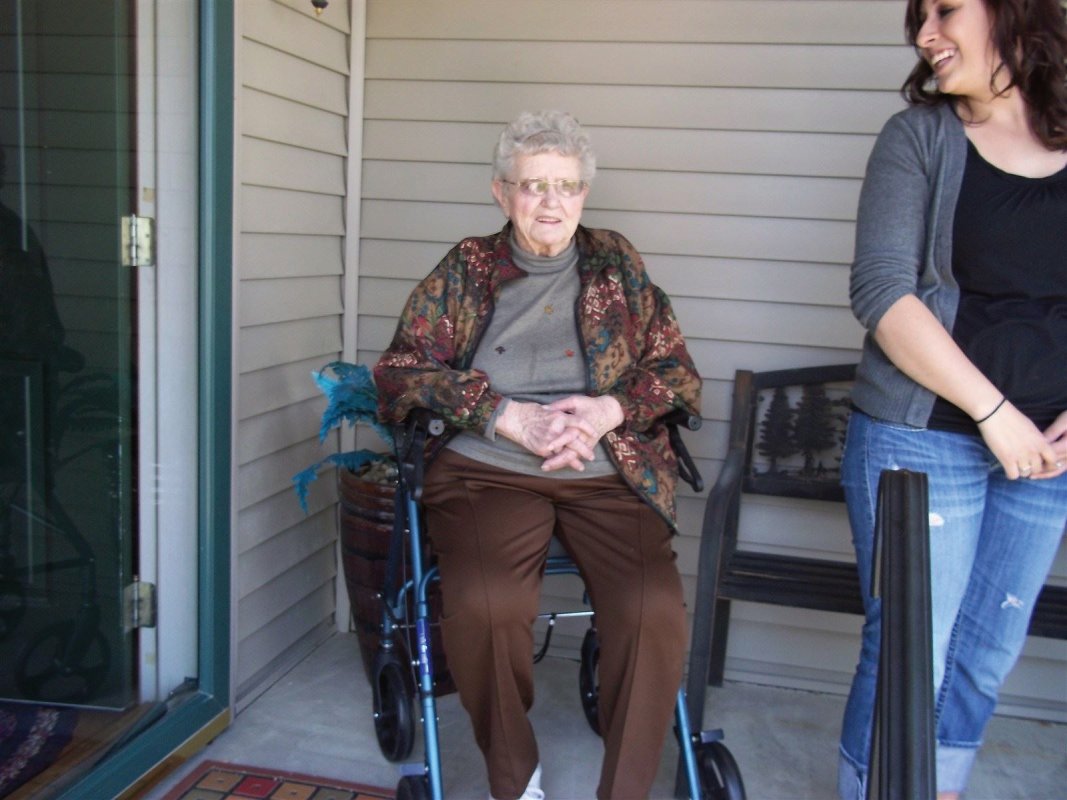 Great Grandma Helen decided to take a seat and watch the show!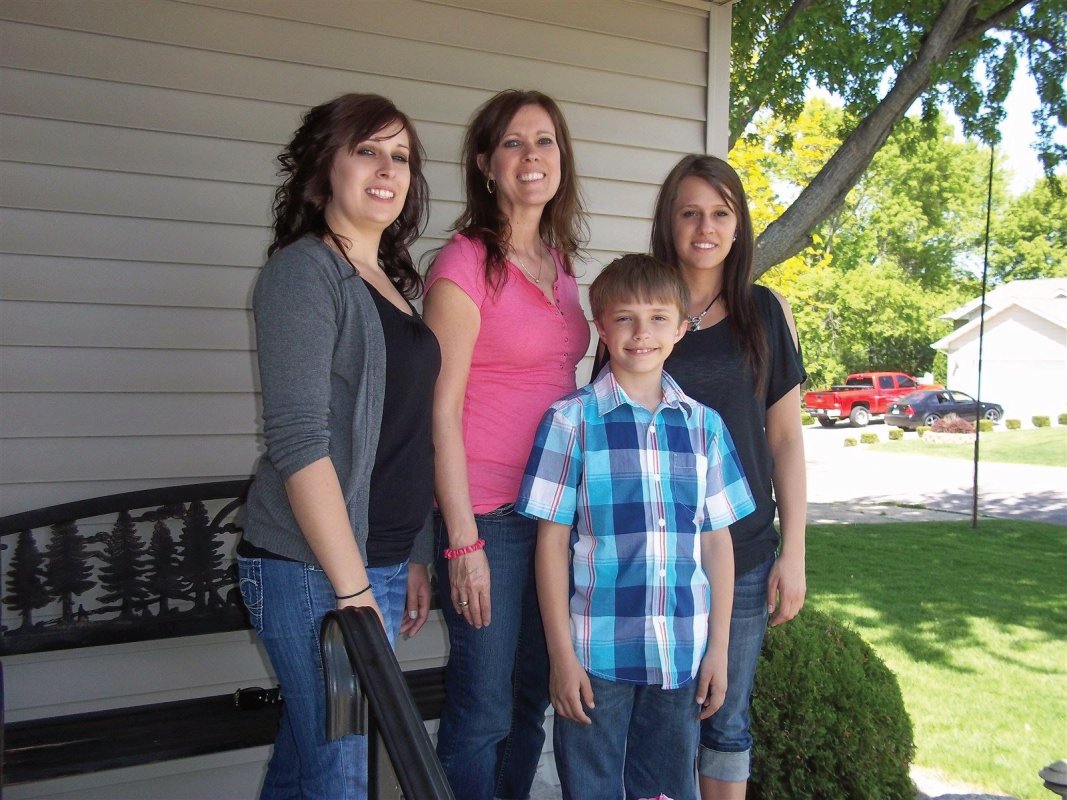 Well this is the final shot - not to bad! It will have to do for this year's Mother's Day Picture.
As you can tell it was a beautiful sunny day. We sat on the lawn visiting, the girls took Weston to the park, and across the road was a horse show going on that Weston was supposed to work in the lunch stand at so Jade went with him and they worked his shift together. (Thank heaven for daughters!)
I hope everyone had as wonderful a day as I did!
Everyday is a Gift!
Not really sure how you are supposed to spell 4-Wheel'in but you know what I am talking about - right!?! One of my daughters - Jessa - called me last night as Weston and I were just starting out for a nice evening walk down the driveway and said that her and her boyfriend (Erik) and my other daughter - Jade- and her boyfriend (Josh) wanted to ride their 4 Wheelers over and ride around the yard with Weston. I just knew Weston would absolutely flip for that so I told them to come on over even though it was edging towards the ever dreaded bedtime! So we quickly turned around and headed back to the house so that we could go through his spelling words before they got here. It was only about 15 minutes and they come driving on the yard - I had to get them lined up and take their picture: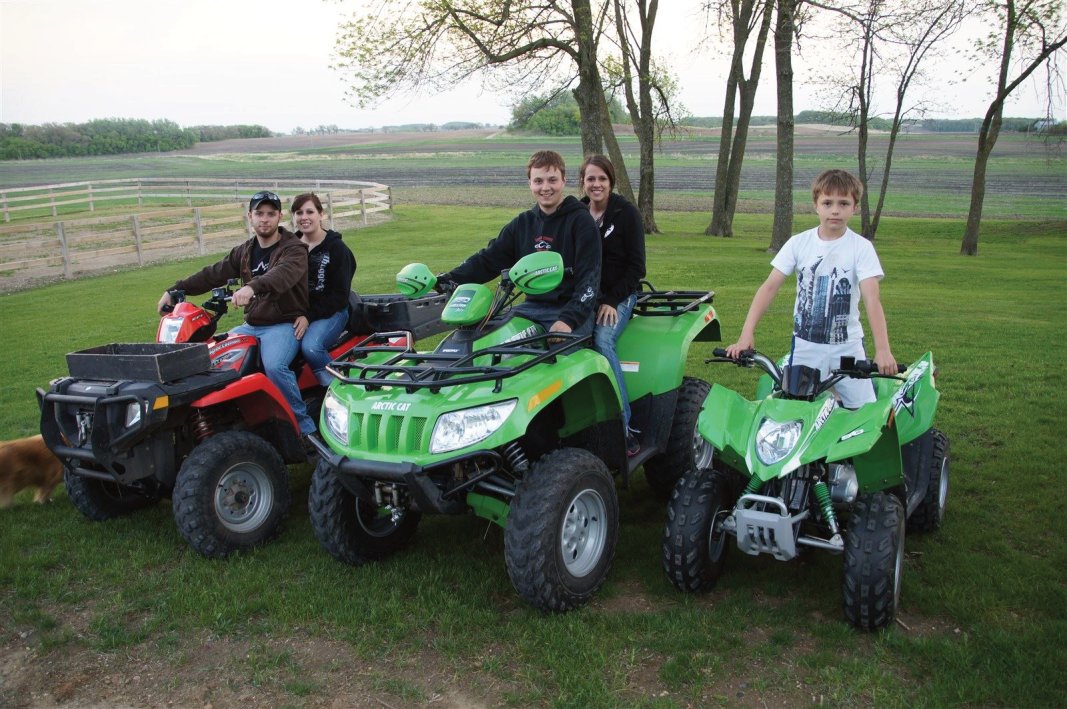 Doesn't that look like fun! They buzzed around the yard with Weston in the lead (of course) he wouldn't have it any other way. He was so proud to be leading the pack! I had to snap a few more: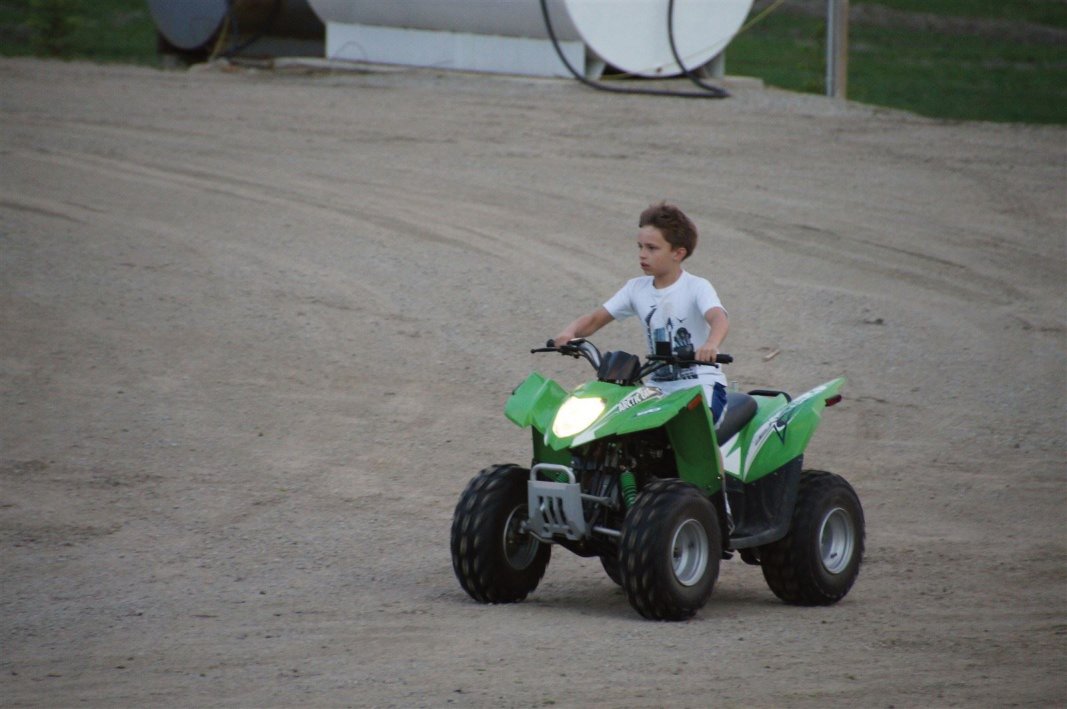 Looks like a natural!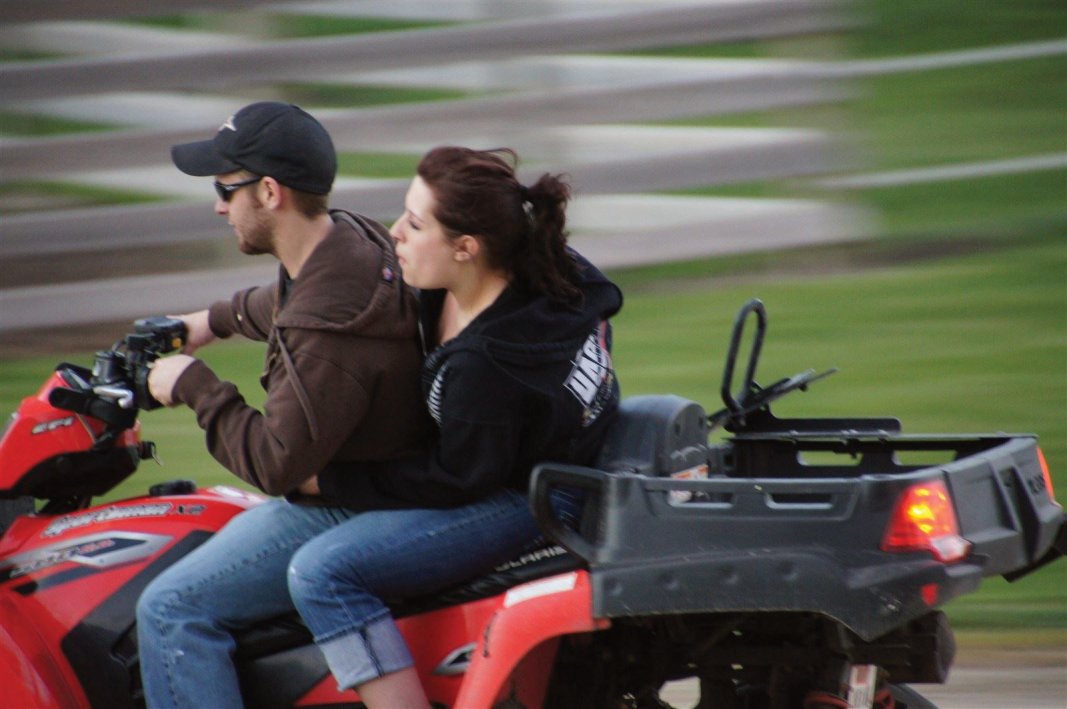 Lean into the corners!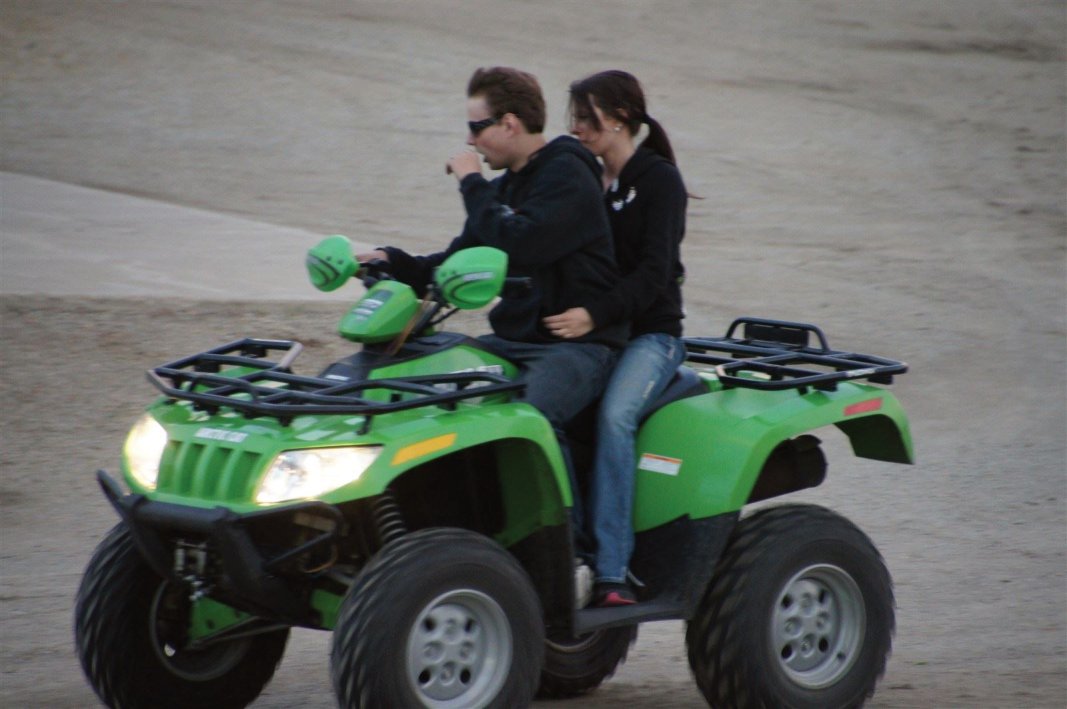 I am glad one has a green one and the other one is red. I can tell them apart easier that way! LOL
I just need one now so that I can go with them. I don't think I would fit on Weston's smaller one! In fact I had just told him that the other day - Horses for Dad and 4 Wheelers for Me!!!
Everyday's a Gift!
Today is "May Day"! I can hardly believe it - where does the time slip to? It seems to be a very "slippery" stinker! Weston has only one month left of school before summer break. His last day of school is May 31st. Unbelivable!! Then days of less structure and later bed times. He will be thrilled and I "will not". I love having him home but he gets so bored and can't figure out what to do with himself - I have vowed to have some sort of summer schedule. Only a few hours of TV time and the rest of the day will be filled with chores, reading, math, playing etc. I did just sign him up for swimming lessons. He won't be excited to hear that but I believe it is one of the most important things we can do for our children. They really NEED to learn how to swim so they are not scared of the water. He loves to go fishing so therefore the NEED to swim is also present.
It is such a gloomy May Day today. No sun, kind of hazy and windy. Our dear weather man has even predicted some stormy weather for tonight. Yuck - we don't need that. There has been way to much of that all over the country all ready this year.
Gray and Hazy!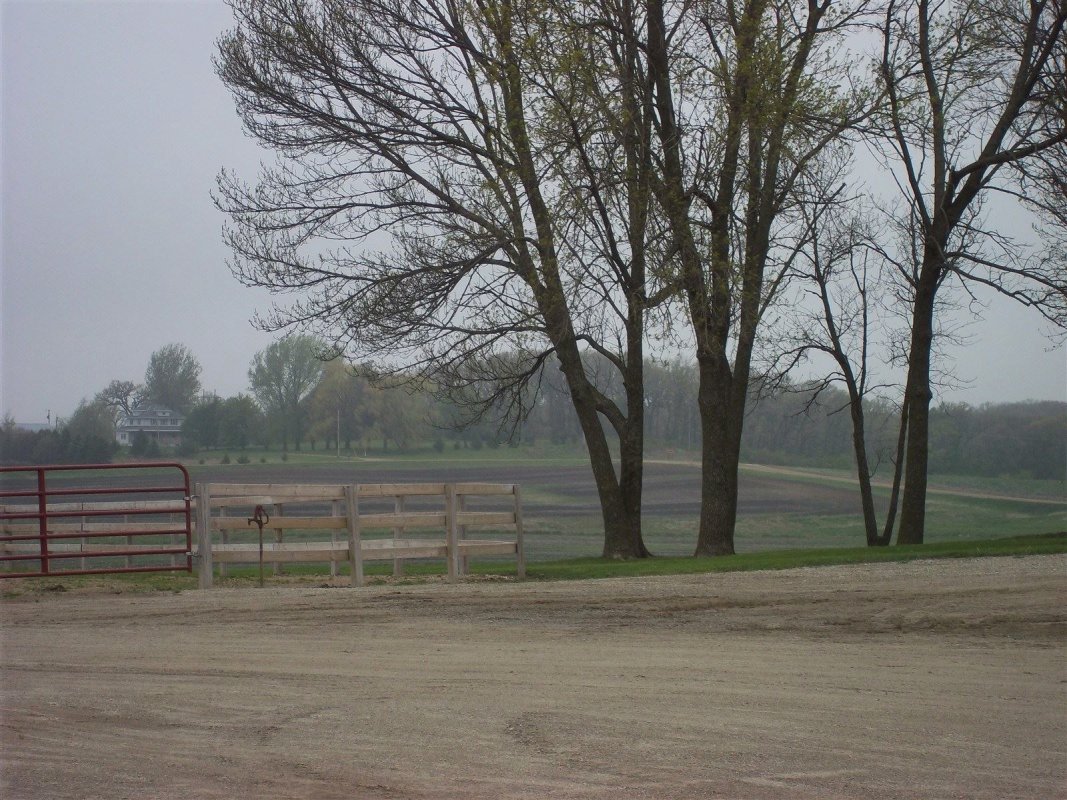 Hazy and Gray!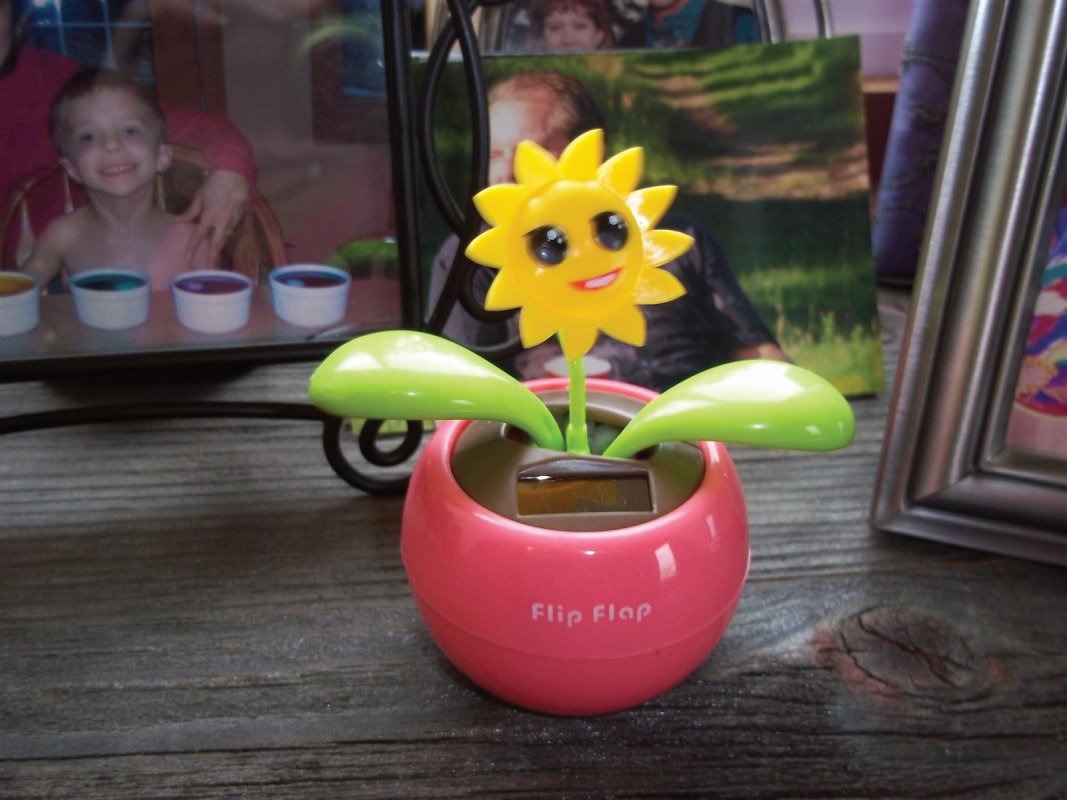 This is my only ray of sunshine! Its' little head moves from side to side and its' little arms move up and down when the sun is shining. Surprisingly it is bobbing its' head and moving its' arms just ever so slightly today in the not so apparent sun. She brings a smile to my face! Aaaahhhhh! Love her!
I just have to post a picture of Lehto (our Austrailan Shepherd) - just because. I just snapped his picture - he didn't really want to look at me. I think he was hoping if he didn't look at me I would leave him alone. But, of course that didn't happen. He is so pretty though isn't he?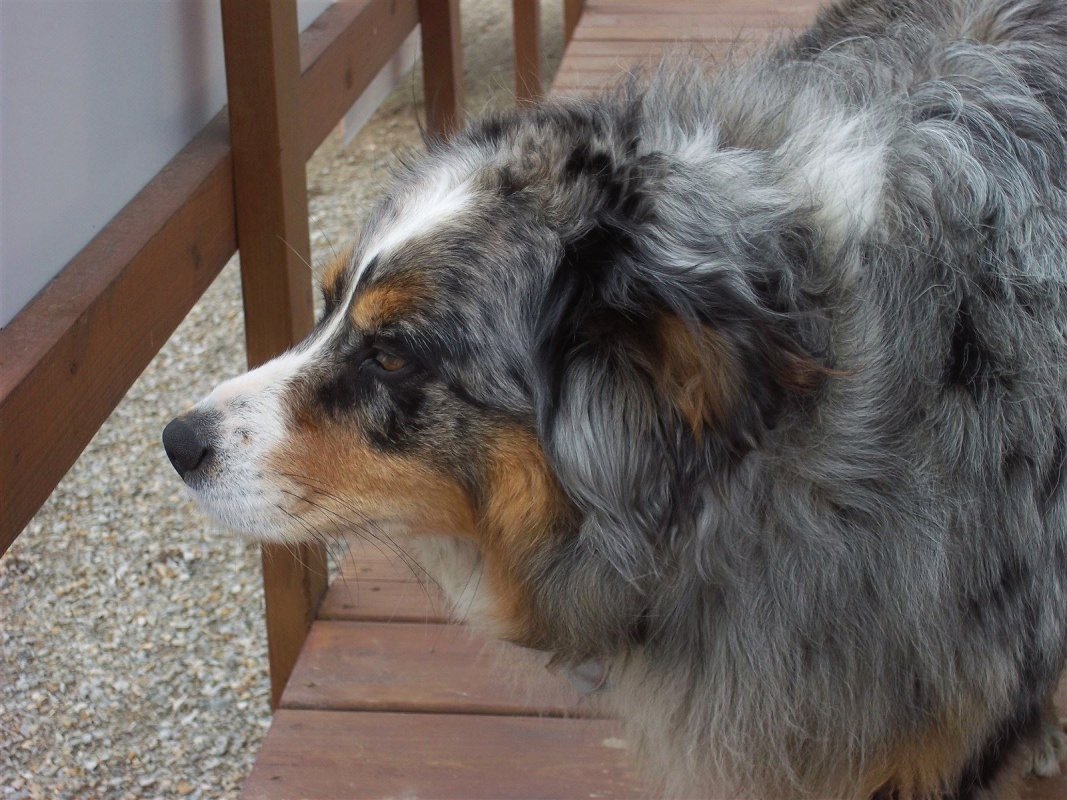 Hope you make the best of your "May Day"!!
Everyday is a Blessing!
We had such a fun weekend last weekend. My cousin,Dennis, has a son, Cody, getting married in May and two of Cody's aunts and myself gave him and his bride to be (Kate) a couples shower. My other cousin Paul and his wife Maria were kind enough to host the event and luckily they have a pretty good sized home as the weather decided to bless us with some much needed moisture. It was a maze of men, women and children!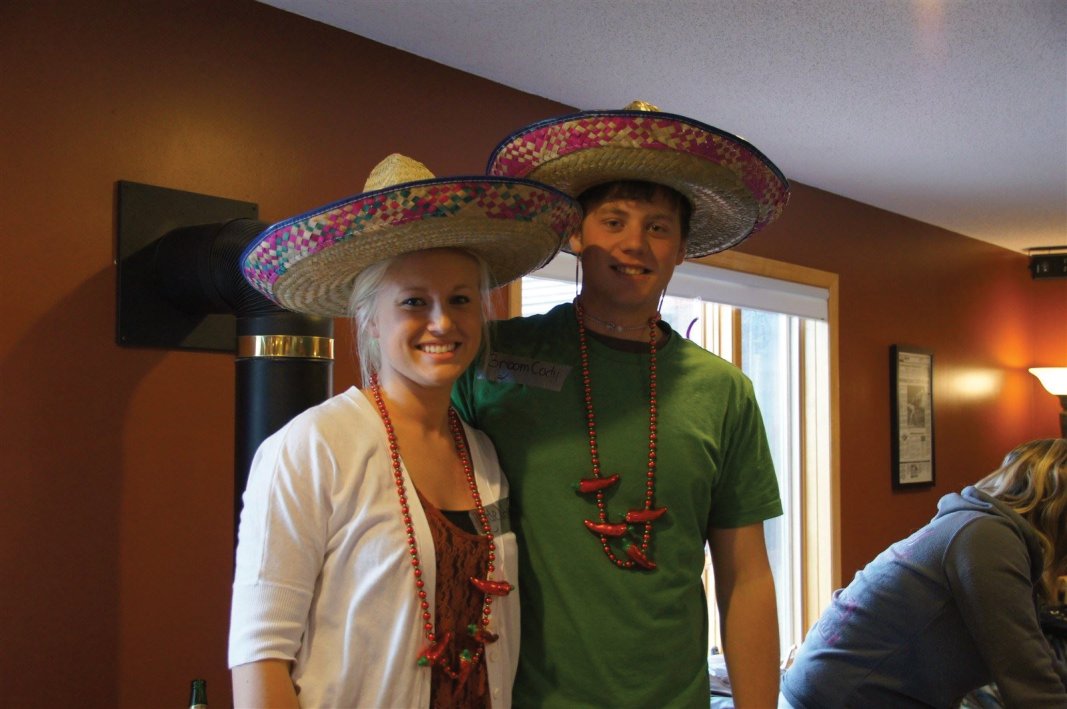 What a good looking couple! Cody and Kate in sombreros and red hot chili pepper necklaces (Mexican theme you know!).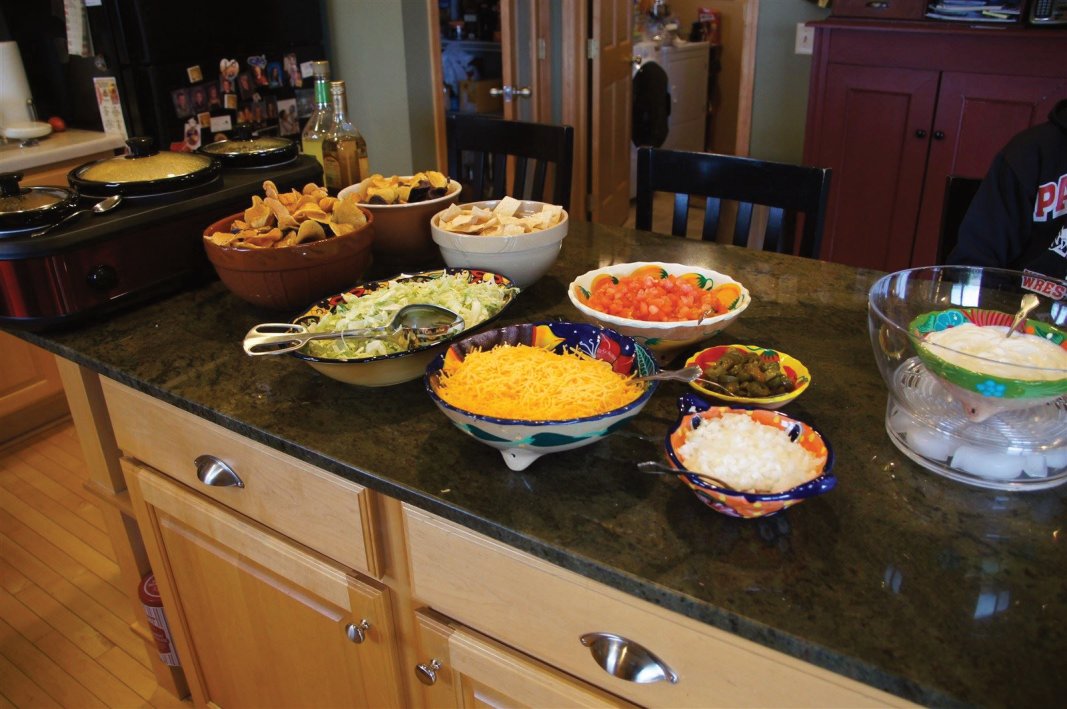 Tacos! Tacos! Tacos! Mmmmmmmmm - what more is there to say?
I just have to share my refried bean recipe with all of you. It is soooooo good after the first time I made these beans I decided I could never just open a can of refried beans to have with tacos anymore.
Refried Beans:
1 T Olive Oil
1/2 Medium onion, diced
2 cloves garlic, minced
1 tsp ancho chili powder, (I just use regular chili powder)
1 big can Pinto beans, drained
2/3 cup low sodium chicken broth, plus more if needed
Salt and Pepper
2 T Cilantro, chopped
Heat oil in a large skillet over medium heat. Add the onion and cook until tender, about 3 minutes. Stir in the garlic and chili powder and cook for 1 minute more. Stir in the beans and chicken broth and cook until the beans are warmed through, about 5 minutes. Mash the beans coarsely with the back of a wooden spoon, (I use a potato masher) adding more chicken broth to moisten if needed. Season with salt and pepper to taste. Stir in the cilantro.
You will forever be hooked! Enjoy!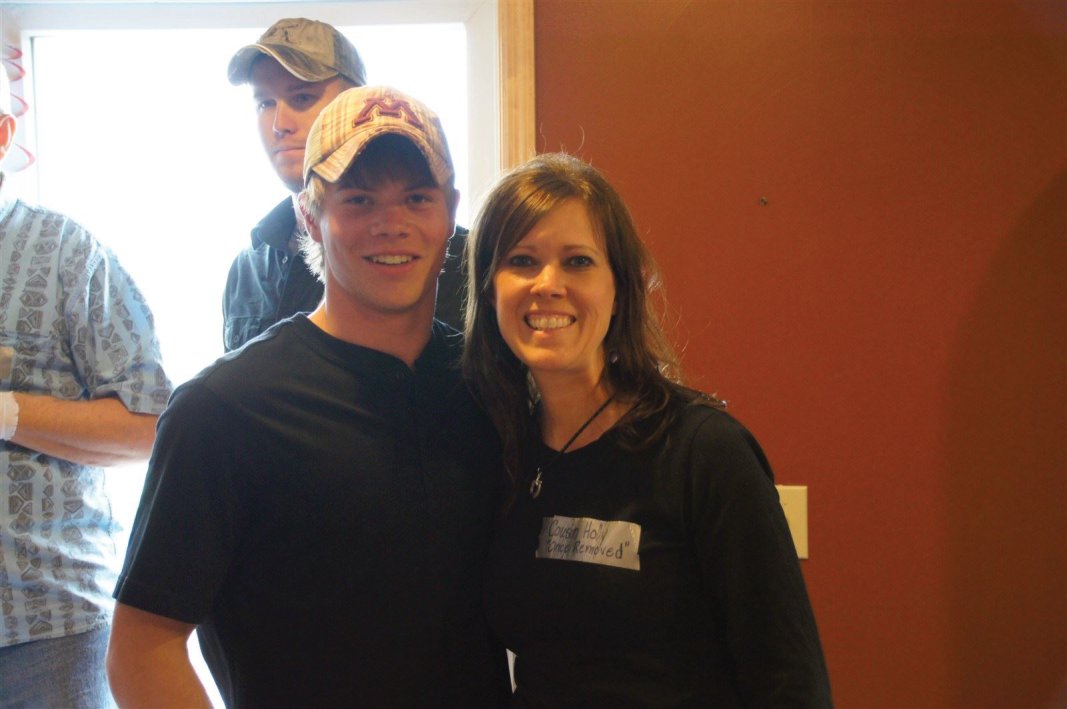 Here I am with my cousin Paul's son, Ben. Isn't he handsome! He looks just like the boy I grew up with - his daddy!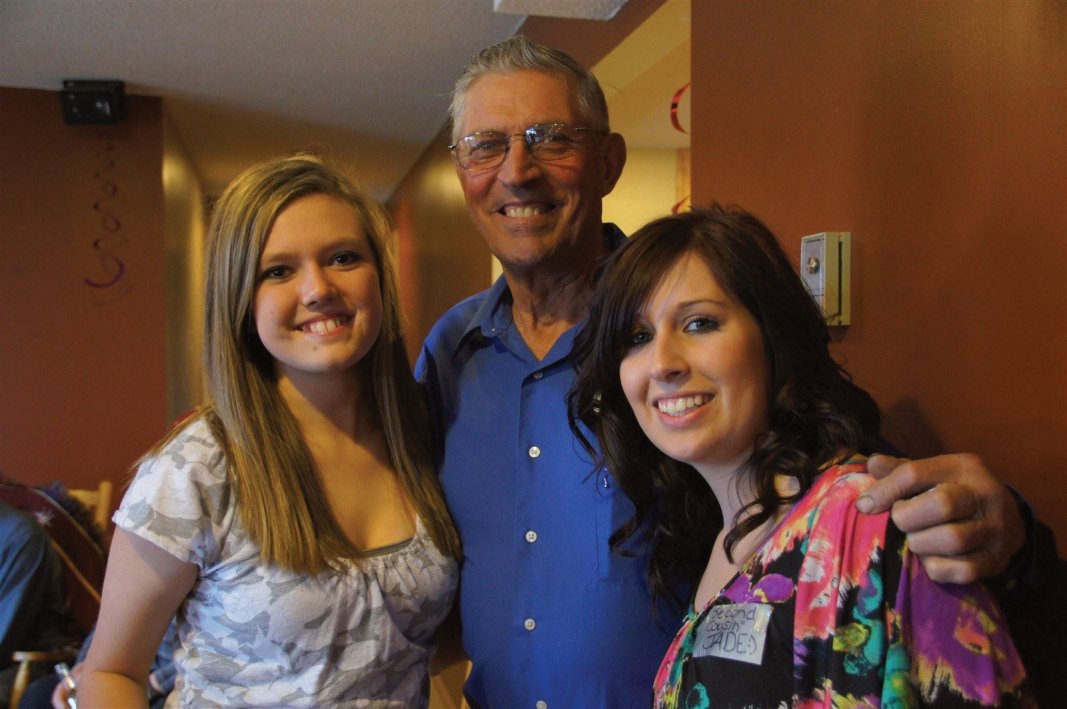 Proud Grandpa Dale, my Dad, with his two Granddaughters Abby on the left and my daughter Jade on the right. What a nice picture.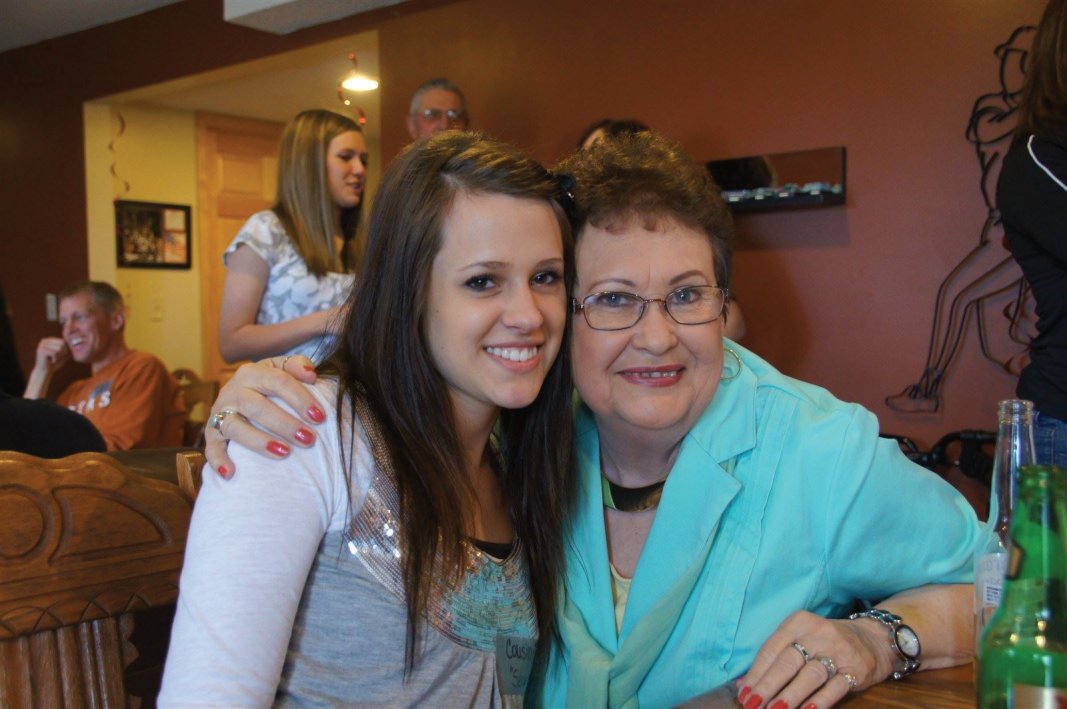 Grandma Jane, my Mom, and my daughter Jessa. Jessa is Grandma Jane's name sake. Her full name is Jessa Jane. My Mom regretted not naming me Holly Jane (that would have been a lot of Janes!) but instead I am Holly Ann named after my Grandpa Frank Holley. That was my Mom's Dad she always thought that had a nice ring to it. I guess it does - I like it!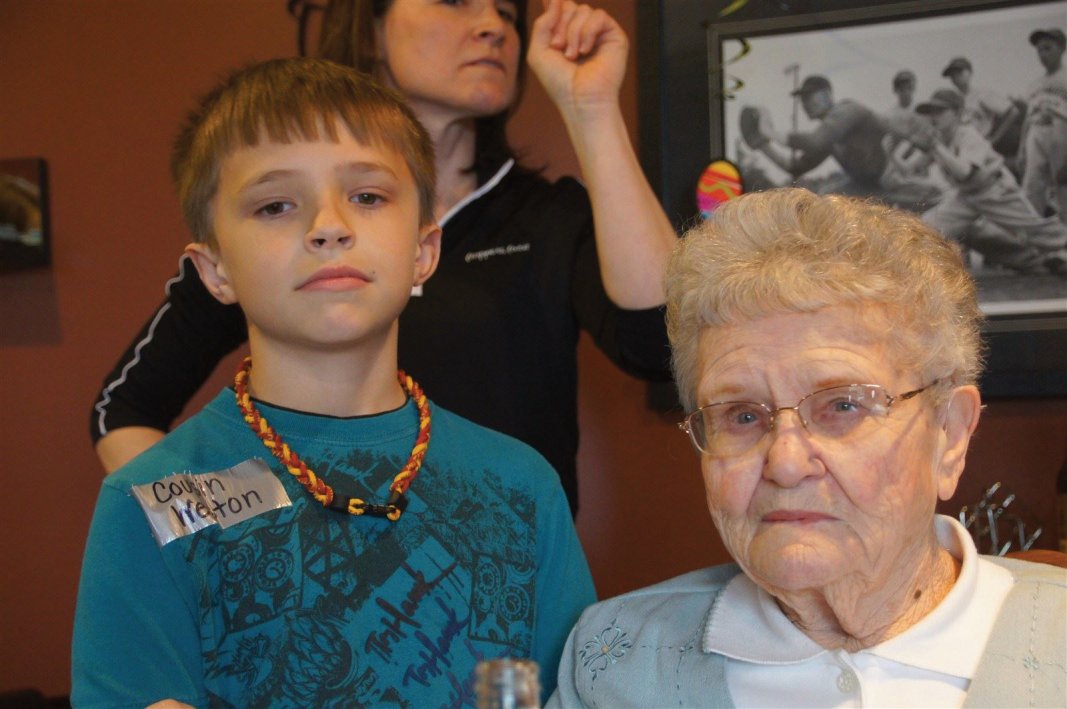 Here is Great Grandma Helen (91 years old) she looks awesome - doesn't she, and Weston. He is trying not to smile when I am telling him to smile. Ugh- boys what can you do with them? Notice the piece of duct tape on his shirt - that was our name tags for the shower - Maria (who is behind Weston) is so clever!!!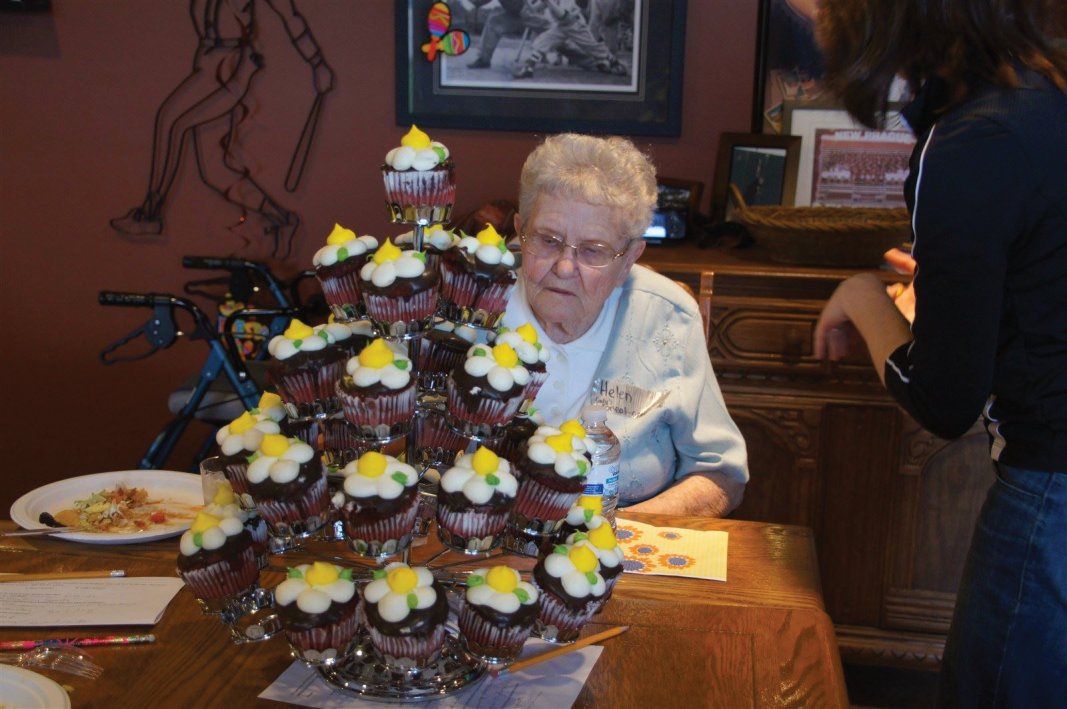 Great Grandma has been waiting for the cupcakes and didn't waste any time in digging in. I don't blame her aren't they beautiful! They were a red velvet cupcake with a cream filling, a chocolate genache frosting and then a big frosting daisy on top of that. Words can not even convey how absolutely heavenly they were. I was a good girl and shared one with Jade (I could have eaten 5).
What a beautiful party - as always it was so fun to see all the family and enjoy some time together.
Everyday is a Blessing!
Happy Belated Easter! I can't believe it has come and went so quickly! Busy, busy times right now - Spring is full of field work, seed delivery, and chemical pick ups. I need to back up a little and catch everyone up on what we have been doing. The Thursday before Easter we took Weston and his friend Laine to a hotel with a water park and they had a wonderful time. Those boys played till they were wrinkled from head to toe. And boy did they sleep good that night.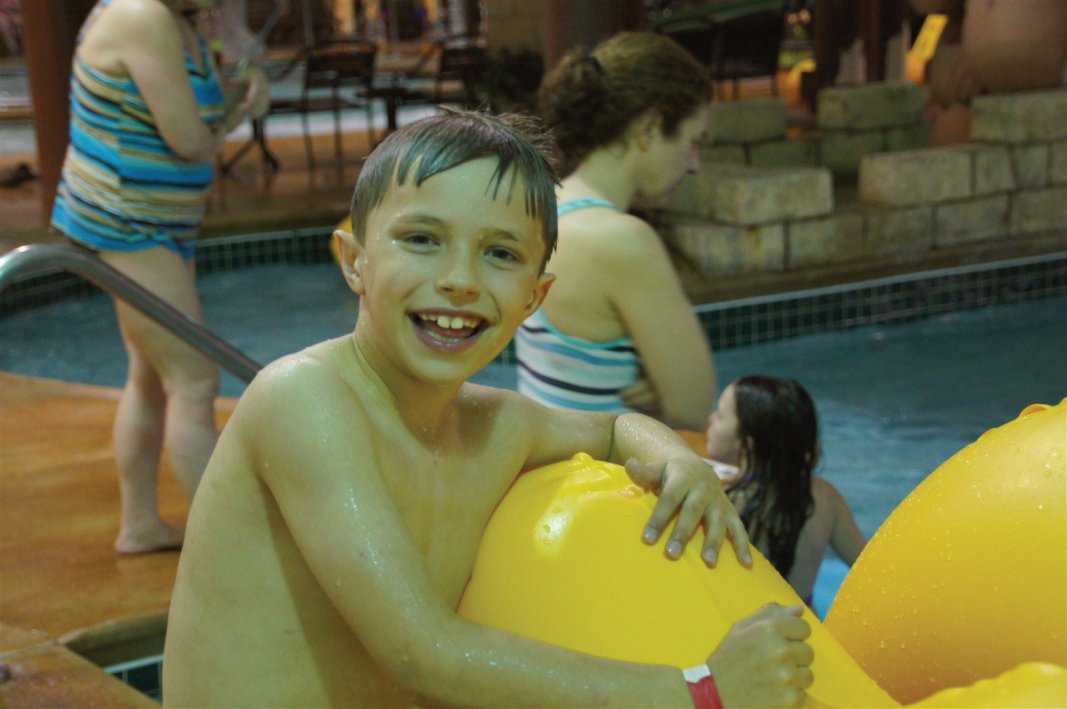 Does that look like a boy having fun or what!?!
We went to my brother's house for Easter this year. I think we had around 25 people there with some of our extended family on my Dad's side. We had a scrumptious dinner with a bone in ham, mashed potatoes and gravy, green bean casserole, baked corn and about three different salads Yum Yum!! Who in their right minds would not love a meal like that. Good ol' Home Cooking!!!! We also had a visit by the Easter Bunny -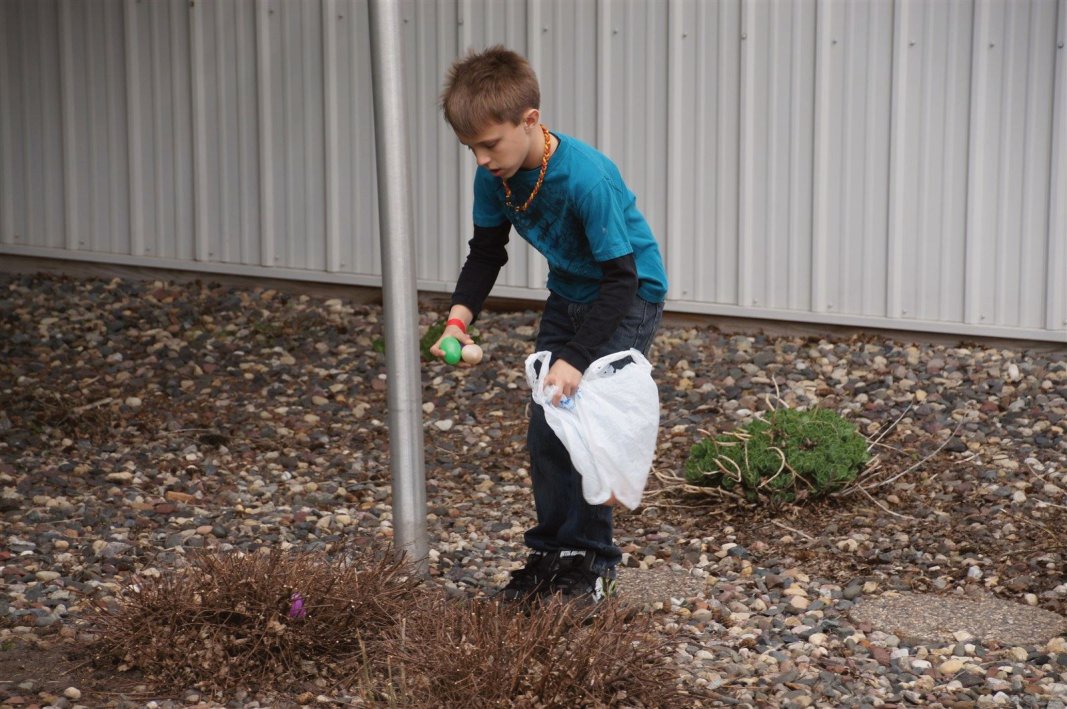 Weston was finding eggs so fast he couldn't take time to put them in his bag - he was trying to hold as many as he could in his hand! That darn bag kept blowing in the wind!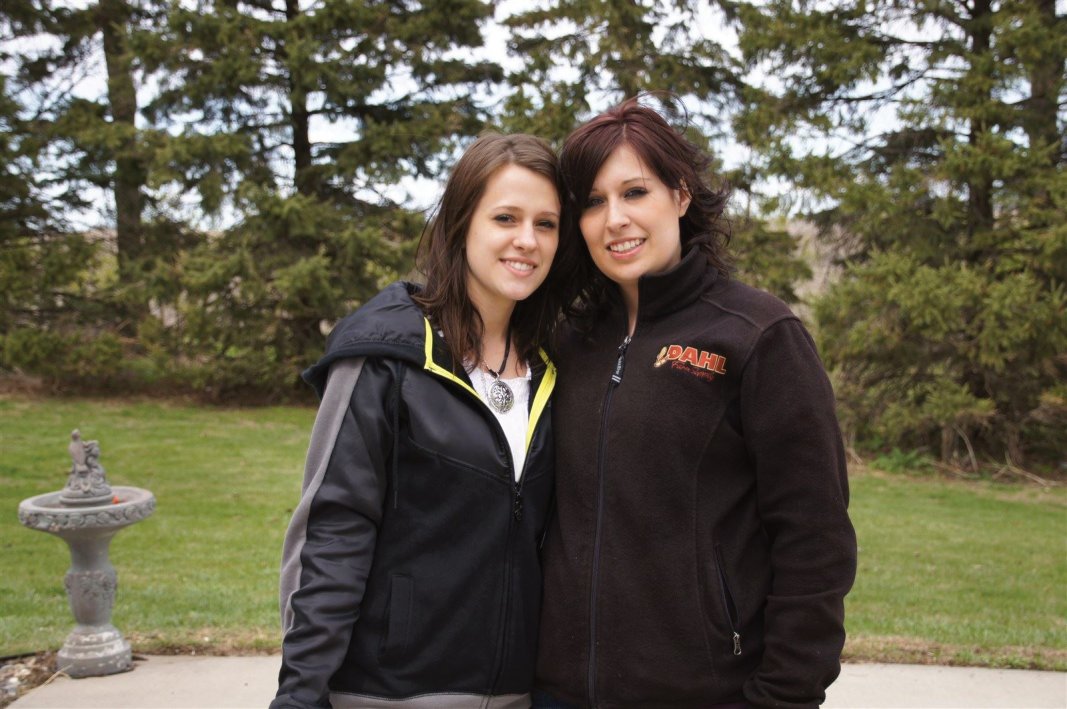 Weston's sisters (Jessa on the left and Jade on the right) enjoying the day and watching the kids run through the yard looking for their treasures.
Fruits of his labor!
I also finally finished my painting project in the house. Every room except one received a fresh coat of paint. It was a big job but I am so happy with the results. Fun new colors to spark it up. No more drab two color house. I hope you can see this ok - but the kitchen is painted a Toasted Seasame Seed color (muted soft yellow) and the bathroom is Gibraltar Cliffs (a gray). I fell in love with both the colors once they got on the walls. Perfect - Happiness!!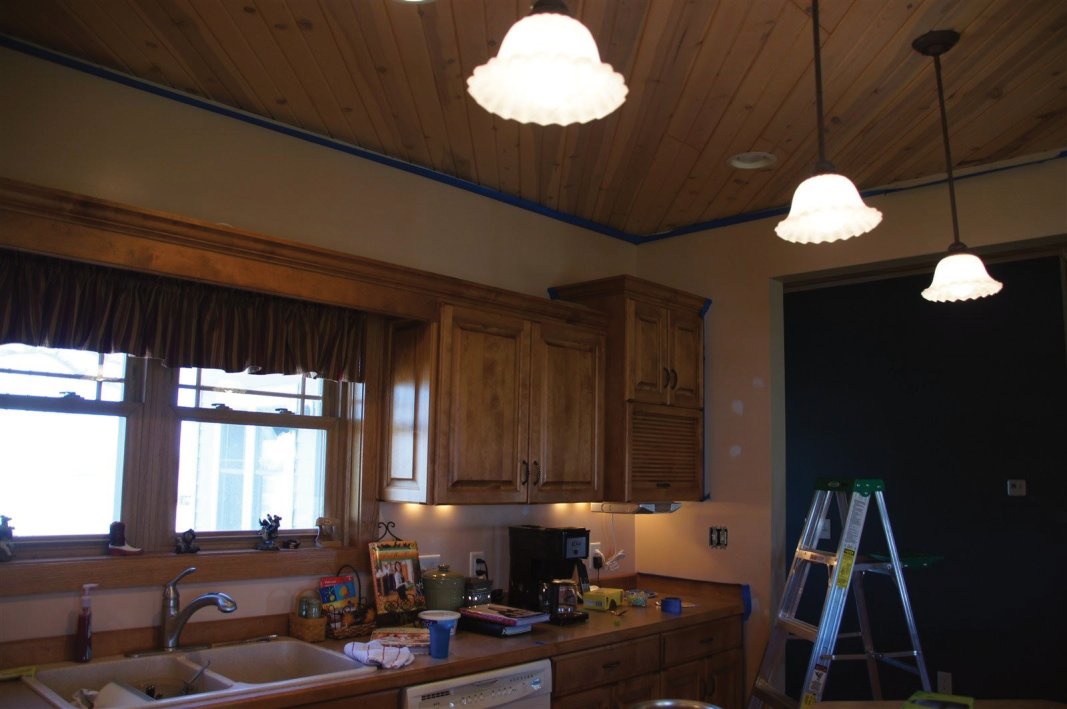 This is actually the before picture of the kitchen - can you see the leopard spots on the wall from where I filled holes. Lived with that long enough - was starting to see spots everywhere I went.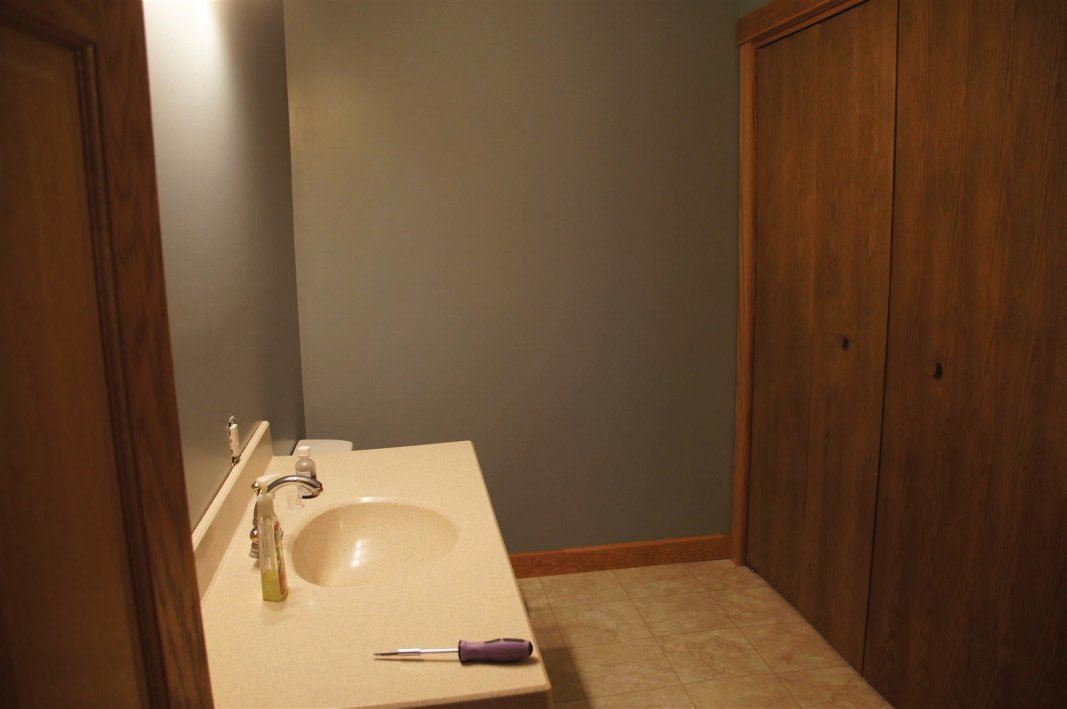 I guess I forgot to take a picture of the kitchen after it was completed - I will try to do that for you later but this is the bathroom. I now have the mirror up and my big horse picture on the far wall and it looks stupendous! (That sounds like something Spanky would say on the Little Rascals - love that word).
Yesterday we went up to my Grandma's house in Hartland to start getting ready for a rummage sale that we are going to have for the rest of the stuff that she didn't want to take with her to her new digs! I think it was a little over whelming for her as she was trying to sift through everything that we brought up from the basement. All questions where directed to her - she will be so glad when it is finished, all over, caput! We had lots of wonderful help!! Men, Women, Children - we took anyone willing to help!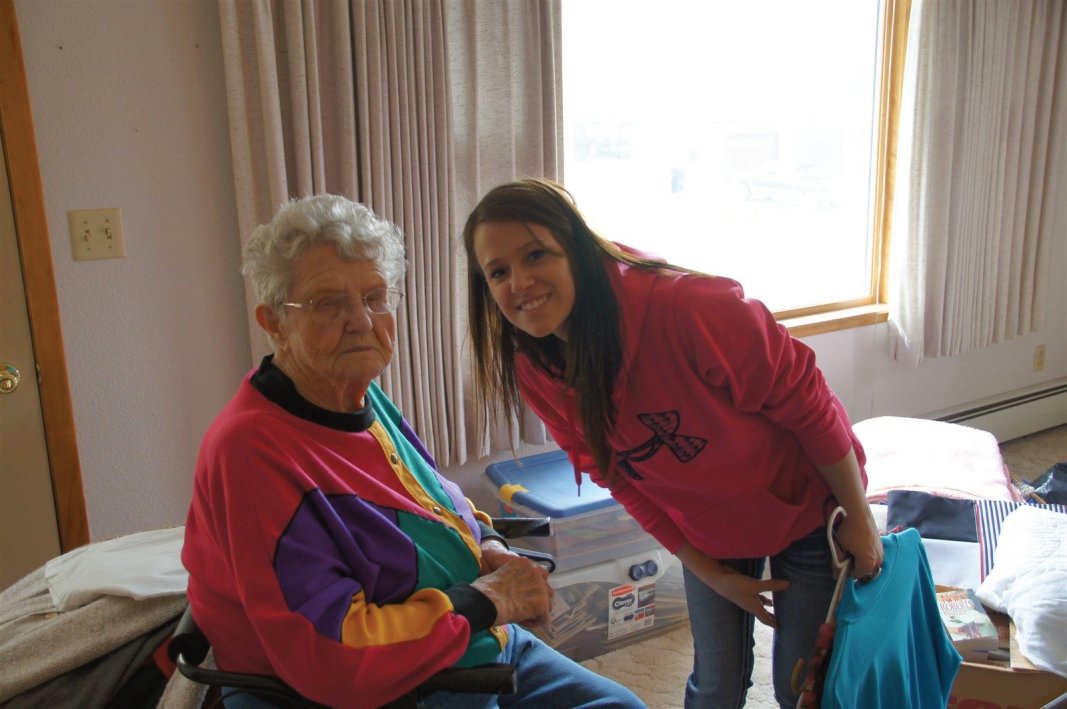 Jessa helping Grandma look through clothes and boxes. They match - must have planned it!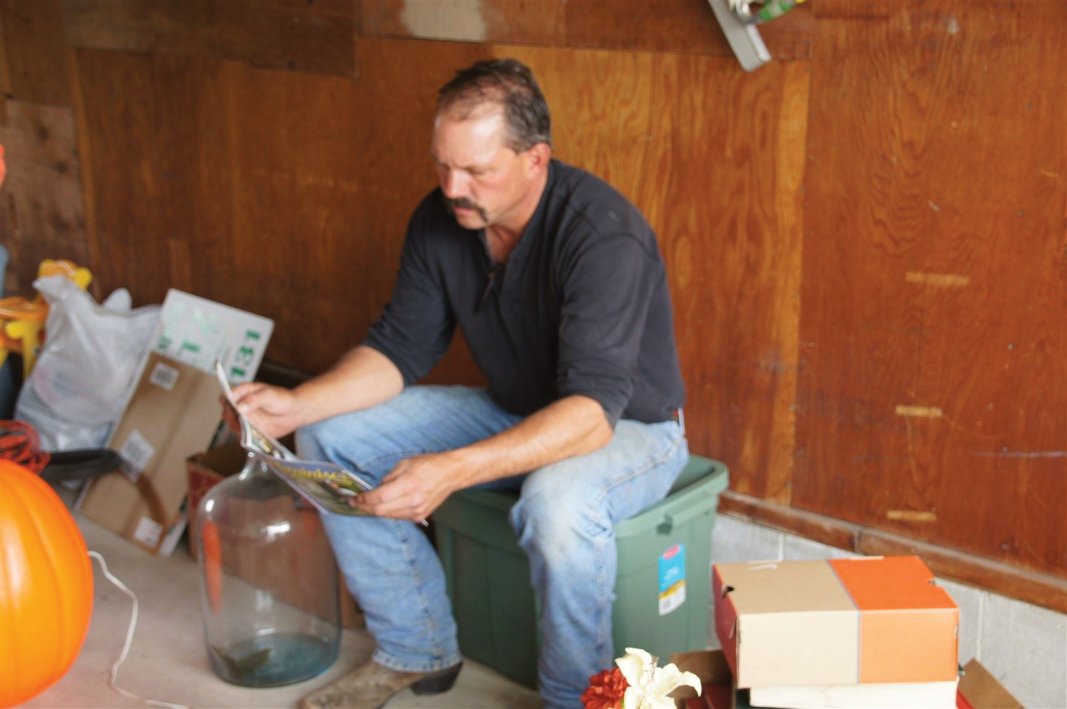 Chris hard at work!!!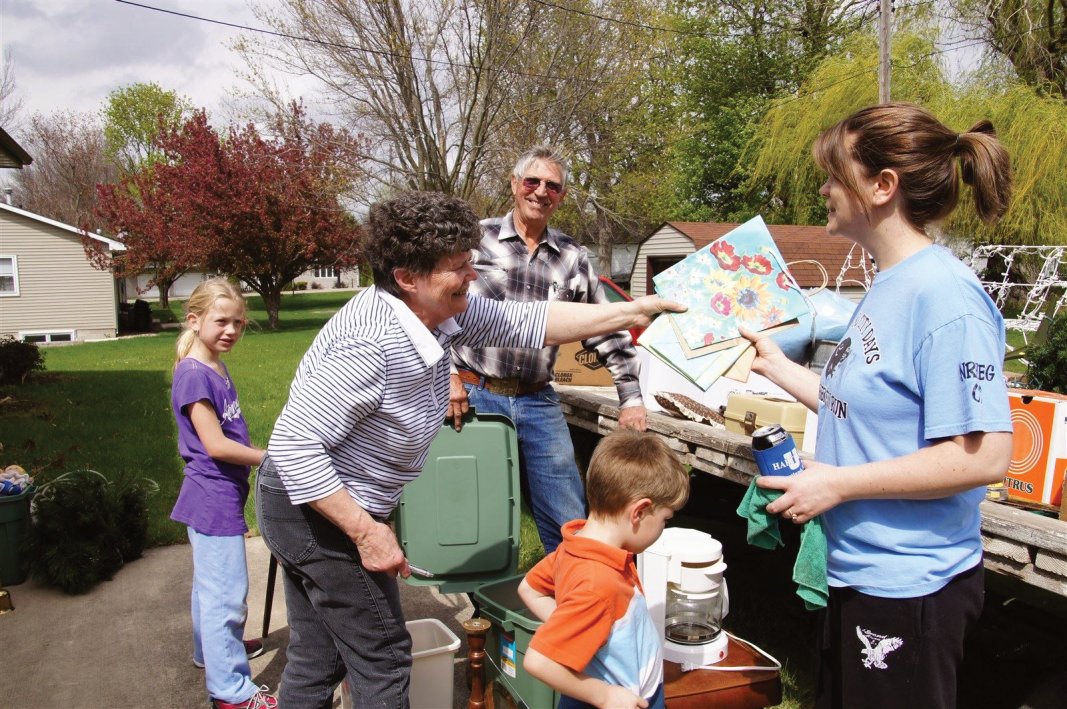 Hauling, pricing, and filling the rack. Everyone is working together - team work!!
That's been my life for the last couple days - wonder what this week will bring?
Everyday is a Blessing!
/